The Walking Dead Season 7 Spoilers: Season Finale Will Jumpstart The Show's Next 100 Episodes; Will Negan Survive?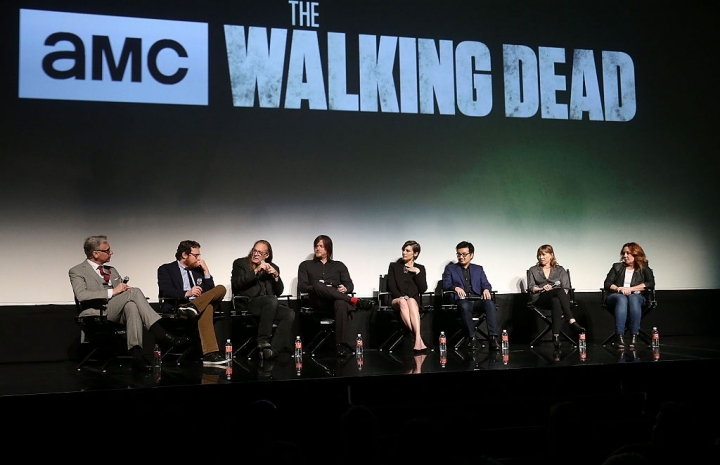 Fans want The Walking Dead Season Dead Season 7 finale to end with Rick and the combined forces of Alexandria, The Hilltop and The Kingdom crushing Negan and his Saviors in an epic showdown. However, the cast and crew of the hit zombie franchise do not guarantee a typical end to the season.
In a report by Entertainment Weekly, Executive Producer Scott M. Gimple teased that the Walking Dead Season 7 finale will not mark the end but rather a beginning to a whole new era of the show. During an open panel at the recent Paleyfest, Gimple said that the Season 7 finale will be the show's 99th episode and the opening of Season 8 will mark its milestone 100th episode.
"The first episode [of season 8] is, I think, less about [the fact] that we reached 100 episodes," Gimple said. "It's more about setting up the next 100 episodes."
The panel, which included The Walking Dead lead star Andrew Lincoln and regular cast members Melissa McBride, Josh McDermitt, Lauren Cohan, Sonequa Martin-Green, Alanna Masterson, Christian Serratos, Seth Gilliam, Ross Marquand, Austin Amelio and Tom Payne, shed some light into what motivated their characters throughout the season. They also gave insight into what viewers could expect for the remaining episode, TVLine reported.
Show creator Robert Kirkman, who was also present at the event said that The Walking Dead was really lucky to have such a talented actor as Jeffrey Dean Morgan on board for Season 7. He praised the actor for being able to effectively project the dimensions of Negan's complicated character - both the horrible aspect of it as well as the entertaining facets of the Saviors' leader.
Kirkman made no mention of whether the actor will be sticking around for The Walking Season 8 but based on the comments of the other cast members, Rick's crew could still have some tough times ahead. For his part, Andrew Lincoln was thankful for Rick's story arc for this season, even if it meant destroying his hero archetype. He said this inspired him to give his portrayal his all to make Rick's journey as realistic and convincing as possible.
© 2018 Korea Portal, All rights reserved. Do not reproduce without permission.
Tags:
The Walking Dead Season 7 Finale Spoilers
,
The Walking Dead Season 7
,
The Walking Dead News
,
The Walking Dead 100th episode
,
The Walking Dead Scott M. Gimple
,
The Walking Dead Andrew Lincoln
,
Negan death The Walking Dead
,
Robert Kirkman creator
,
The Walking Dead spoilers
,
The Walking Dead Paleyfest
,
AMC
,
zombie
,
walkers