'Grey's Anatomy' Season 13 Spoilers: Ellen Pompeo, Martin Henderson Talk Meredith, Nathan, Maggie Love Triangle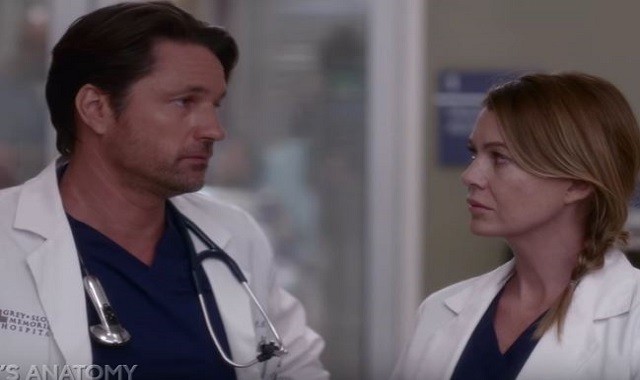 The relationships between beloved characters in "Grey's Anatomy" Season 13 will become more complicated given an impending love triangle. Recently, Ellen Pompeo and Martin Henderson shared their thoughts about the brewing romance between their characters Meredith and Nathan, respectively.
"Grey's Anatomy" Season 13 is set to explore a new romance for the widowed doctor Meredith. After a quick fling with Nathan, as shown in the ABC series' previous season, the two characters' relationship will be further explored in upcoming episodes.
However, the potential relationship between Meredith and Nathan might be hindered by Maggie's (Kelly McCreary) feelings for her sister's new love interest. Maggie has no idea about Meredith's growing interest in Nathan including the couple's former fling, but she might soon find out about the two characters' blooming romance in "Grey's Anatomy" Season 13.
At this time, it still unclear if Maggie will feel angry or betrayed over the said situation although Meredith might opt to let go of the romance in favor of her sister. Ellen Pompeo teased during the PaleyFest held March 21, Sunday, that "women have to stick together," Entertainment Weekly quoted the actress as saying. Martin Henderson also commented that if the said scenario happened in "Grey's Anatomy" Season 13, Nathan will respect Meredith's decision.
Despite the potential failed romance between Meredith and Nathan, the actor stated that it would also be interesting to see the different relationships that his character will form with other characters in "Grey's Anatomy" Season 13. He stated, "I'm looking forward to the opportunity for Nathan to be in a relationship, whether it's platonic or not, to see who he is deep down."
In other news, Ellen Pompeo also talked about her directorial debut on "Grey's Anatomy" Season 13. The actress helmed the ABC series' upcoming episode that will be released on March 30. Titled "Be Still, My Soul," she even teased that the said episode might feature a pivotal death, TVLine quoted Pompeo as saying.
"Grey's Anatomy" Season 13 airs every Thursday on ABC. Watch a teaser for the upcoming episode below:
© 2019 Korea Portal, All rights reserved. Do not reproduce without permission.