'Star Wars Episode VIII: The Last Jedi' Teaser To Include A Famous Corellian's Funeral?; 'Rebels' Hinted Who The Real Chosen One Is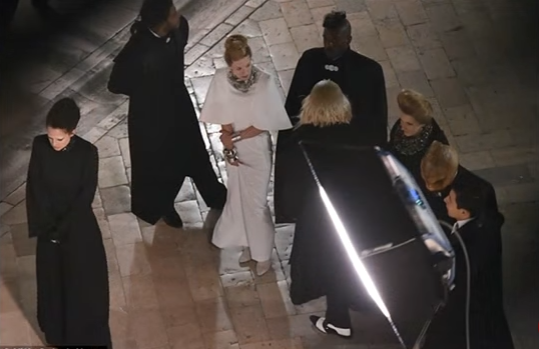 The Star Wars Celebration will be a special one this 2017 as fans will flock in Orlando to witness the much-anticipated teaser of "Star Wars Episode VIII: The Last Jedi." Recent news suggests that aside from the scenes that were leaked early on, the sizzler video might include shots from a famous Corellian's funeral.
Han Solo's (Harrison Ford) rumored funeral rites have been spinning for the longest time. Such ceremony is now believed to be included in the "The Last Jedi" teaser that is slated to be shown at the aforementioned "Star Wars" event come April.
Per the latest info, some of the scenes that were allegedly on the "Last Last Jedi" teaser include a shot of a massive city, a spacecraft that is said to closely resemble an X-Wing fighter, a procession, and a feast, Star Wars News Net has learned. When the publication asked its source for some clarification, the last two were depicted as some sort of funeral and a very "important dinner." Furthermore, the attendees of both occasions were all sporting black garbs in a city that has an old look to it.
Moreover, the purported funeral for Han Solo is likely to take place on his home planet - Corellia. It was believed as such as spy shots of some of the alleged guards have a CBPD acronym inscribed on their helmets.
In other news, the recent episode of "Star Wars Rebels" may have revealed something interesting in connection to "The Last Jedi." The scene showed Darth Maul confronting Obi-Wan Kenobi in Tattooine as the former figured out that the latter is protecting someone whom most of the fandom believe to be Luke Skywalker. The long-awaited clash ensued that resulted in Darth Maul getting fatally wounded. The dying Sith Lord then asked the Jedi if the person that Obi Wan's protecting is indeed the "Chosen One" to which he replied, "He is," Express reported.
Fans are now musing if those to words would have a bearing in "The Last Jedi" now that many are also contemplating as to who will it be. All that are expected to be answered in "Star Wars Episode 8" as it is slated to be released on December 15. In the meantime, watch a video about the recent episode of "Star Wars Rebels" here:
© 2018 Korea Portal, All rights reserved. Do not reproduce without permission.