'Arrow' Season 5 Spoilers: Felicity's Dark Journey With Helix To Mimic Oliver's Earlier Struggles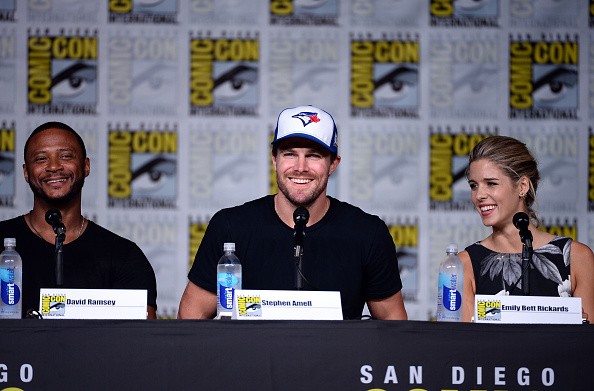 The events of the past have pushed some of the characters in "Arrow" Season 5 to embark on a revenge mission or explore a dark path in the name of justice. Latest spoiler news teased of Felicity's (Emily Bett Rickards) challenging journey with Helix and how it will affect her relationship with Oliver (Stephen Amell).
Felicity and Oliver's bond started with a boss and employee arrangement that progressed to the two characters becoming lovers although their relationship fell apart. In "Arrow" Season 5, they went back to being teammates with Oliver balancing his time as the vigilante Green Arrow and as city mayor. Given Felicity's past experiences, as well as her wish to rid the city of villainous characters and save her friends, she affiliated herself with the mysterious hacker organization Helix and began to tap her darker side.
However, Felicity's partnership with Helix in "Arrow" Season 5 will come at a cost with the said character going on a personal journey that will mirror some of the steps that Oliver has had to take as the Green Arrow. Showrunner Marc Guggenheim told Entertainment Weekly that Team Arrow's tech genius will experience situations that will "put her in Oliver's footsteps a little bit."
Felicity's dark journey with Helix will help her to gain a better understanding of her former fiance's mindset and why he had to do some of the things that he did in the past, according to Guggenheim. At this point, it is still unclear whether Team Arrow's hacker genius' Helix experience might lead to a reconciliation between Felicity and Oliver in "Arrow" Season 5. However, the showrunner commented that the reason why the two separated was Felicity's "difficulty to see things from Oliver's perspective."
In other news, the upcoming "Arrow" Season 5 episode 17 titled "Kapiushon" will feature Adrian's (Josh Segarra) efforts to torment Oliver, according to episode spoilers posted on Spoiler Guide. After Adrian, also known as Prometheus, captured Oliver in the show's previous episode, he will try to try to break the Green Arrow's will and make him unveil his secret through torturous methods.
"Arrow" Season 5 episode 17 will be released on March 22, Wednesday, on the CW. Watch the teaser clip below:
© 2018 Korea Portal, All rights reserved. Do not reproduce without permission.