Taeyeon From Girl's Generation Reveals The Reason Behind Her Not Writing Any Songs Since 'I'
by
Jai S.
/ Mar 18, 2017 08:55 AM EDT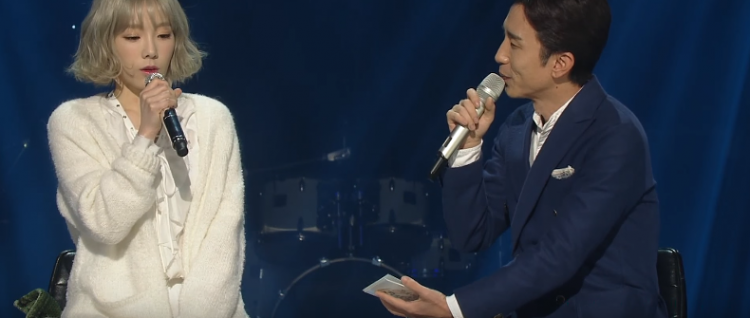 Recent updates about the popular Korean girl group, Girl's Generation notes of Taeyeon making an appearance on the "Yoo Hee Yeol's Sketchbook." The upcoming KBS2 episode will feature the Girl's Generation group member performing her title song "Fine" from her first studio album "My Voice" that debuted on February 28th, 2017.
Girl's Generation's Taeyeon, after having a successful career featured in the girl group, has also debuted as a solo artist featuring a number of songs from her EP "I." While speaking to her about her new album "My Voice," Taeyeon told that her songs were good for listening while driving. In addition, when asked by MC Yoo Hee Yeol about her voice, she stated that a fan described her voice as a genre which flattered the K-pop idol.
After further interviewing her, Taeyeon explained about her album jacket having two concepts, namely: decadent and dreamy which she describes with different poses. Later she talks about singer-songwriter Jung Joon II who is the composer she received a song from. She noted of the song sent to her by Jung Joon II in her mail.
It has been seen before that Girl's Generation's Taeyeon was featured as a potential songwriter before when she wrote her famous song "I." She quoted jokingly about her songwriting skills that "I" had rhymes which were on the same level as that of Dok2's. Her statement even made Yoo Hee Yeol laugh out loud during the episode.
On further inquiring about why she has not written any songs since then, Taeyeon answered by saying that she is very sensitive about expressing her thoughts and emotions. She doesn't like to live in the past memories and doesn't even write a diary either.
Lastly, Yaeyeon reveals more about her final song which is not available on online streaming sites, but on CDs. Later she ends the show by performing "Time Spent Walking Through Memories" by Nell who she admires back since her training period.
© 2018 Korea Portal, All rights reserved. Do not reproduce without permission.