New 'Ark Survival Evolved' Update To PS4 & Xbox One, Bringing Consoles Versions Up To Date With The Current PC Build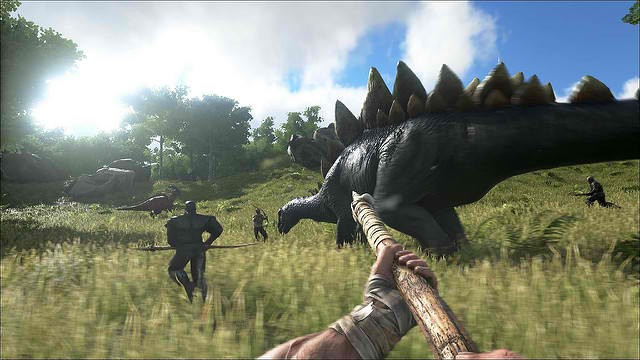 The ARK Survival Evolved newest patch update is now available for PS4 users. After the delay of the new Dino and Tek Tier gear arrival recently this week, the Studio Wildcard confirmed the update launching together with the Xbox One version that will follow the PS4 later.
"The PlayStation 4 patch will deploy in approximately this day. Xbox update is currently in cert, and it's a long one due to all the changes we made. Fingers crossed that we'll be able to do Xbox tomorrow." Message from the ARK community team confirms.
According to the Express report, the Studio Wildcard explained earlier this week that it would take longer to leave the Microsoft certification process, that is why the Xbox One was more complicated to update. Also, the Xbox version of the game is undergoing a massive upgrade to the XDK which will result in a very large patch.
The new update patch of the "ARK Survival Evolved" will add four new dinos and 20 new structures, also, to resolve some minor issues of the game. This new update will bring the console versions up to date with the current version the PC have now.
The initial reports said that the "ARK Survival Evolved" patch could be 30GB of size for Xbox One version, but immediately corrected that it will only have 20GB. However, there's no need for the users to worry about the size since with the new download, it will just be replacing the old files so no need to find any extra storage, as the Gaming Bad noted.
For the PlayStation 4 version, the "Ark Survival Evolved" update is far lighter than the Xbox One. It weighs only in at around 3.2 GB and adds the same contents. After these game's console updates rolled out, all supported gaming platform will share same game versions.
© 2018 Korea Portal, All rights reserved. Do not reproduce without permission.