'Arrow' Season 5, Episode 17 Spoilers & News: What Happens In 'Kapiushon'?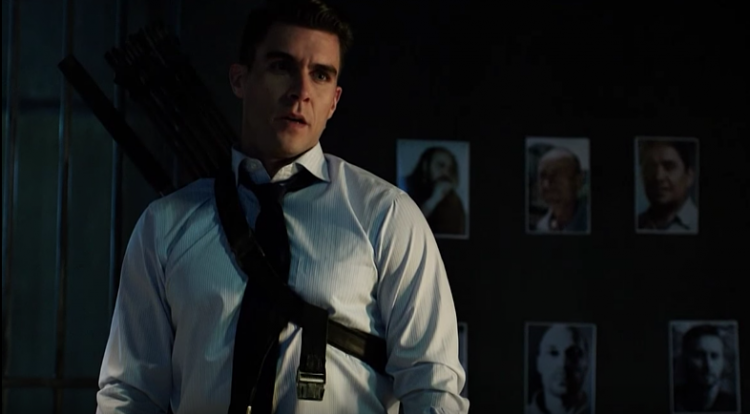 Prometheus (Josh Segarra) is hell bent to break Oliver (Stephen Amell) in the new "Arrow" episode. The promo for "Arrow" Season 5, Episode 17 explores what is in store in "Kapiushon."
Warning: This article contains spoilers from "Arrow" Season 5 episodes. Read if you wish to know more.
The promo starts off with Prometheus asking Oliver to confess as we see Oliver bound in shackles. Oliver threatens to kill Prometheus, but the scene changes to Prometheus torturing him. He also threatens to harm Oliver's son. Towards the end of "Arrow" Season 5, Episode 17 promo, Prometheus aims the arrow at Oliver.
According to the synopsis via TV Guide, Prometheus will try every tactic to break Oliver. Elsewhere, in the flashbacks, Anatoly (David Nykl) is worried about the violent tendencies of Oliver as it comes to a brutal confrontation. "Arrow" Season 5, Episode 17 is written by Emilio Ortega Aldrich and Brian Ford and directed by Kevin Tancharoen.
In other "Arrow" news, Josh Sergarra spoke with Access Hollywood about playing Prometheus and the mysterious Vigilante. When asked about Vigilante, he said that he can't for Vigilante to come up again in the storyline as he is a "bada**."
"Vigilante has been a big part of this journey for me, obviously. The comic book character influenced a lot of who Prometheus is [both] literally and figuratively. There was a point where, for about nine days, I thought I was playing this guy Vigilante," Sergerra said. But, later, he got the name, Adrian Chase. He added he has three names in the cannon.
"Arrow" Season 5, Episode 17 airs Wednesday, Mar. 22 on The CW at 8 p.m. ET. Stay tuned for more "Arrow" Season 5 updates, news and spoilers. Share your views in the section below. Watch "Arrow" Season 5, Episode 17 promo trailer below.

Credit: YouTube/tvpromosdb
© 2018 Korea Portal, All rights reserved. Do not reproduce without permission.