Gong Yoo Joins Lee Dong Wook In Special Event: 'Goblin' Actors Delight Fans With Fun Antics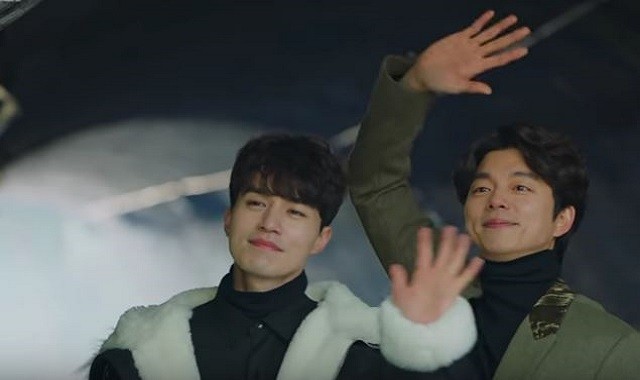 Attendees of Lee Dong Wook's fan meeting in Seoul received a special treat when Gong Yoo appeared as a special guest. The two "Goblin" actors even displayed their amazing bromance as they re-enacted some of their iconic scenes in the said tvN fantasy series and revealed interesting details about each other.
Lee Dong Wook recently jumpstarted his 2017 fan meeting tour with a special event at Seoul's Bluesquare Samsung Card Hall. Held on March 12, Sunday, the event was made more memorable with the surprise appearance of the actor's "Goblin" co-star Gong Yoo, South Korean news outlet Chosun reported. The two stars even mimicked their dramatic scene in the said tvN series.
Event attendees screamed in delight as Lee Dong Wook and Gong Yoo appeared behind a slowly elevating stage backdrop with the spotlight behind them while the drama's soundtrack played in the background. The South Korean celebrities walked side-by-side as they descended a short flight of stairs and walked towards the center of the stage. Appearing shocked and ecstatic with the audience's overwhelming reaction, the two stars even shared a quick laugh after they completed their introductions.
Known for the two actors' bromance on the tvN fantasy series, they also displayed their amazing chemistry during the event and exchanged funny quips with each other while re-hashing some of their lines from the drama. The "Train to Busan" actor even talked about his close friendship with Lee Dong Wook. Describing the "My Girl" star as a "grateful savior" in his acting career, Gong Yoo also complimented his celebrity friend as one of the rare actors who can handle his various ad-libs while filming and someone who come up with a great response or reaction.
Meanwhile, it is unclear if Gong Yoo will be able to appear as a special guest in Lee Dong Wook's upcoming fan meeting events. The "Coffee Prince" star is set to embark on his own fan meeting tour beginning April. In a recent announcement by the actor's agency, as obtained by Yonhap News, Management Soop revealed that the Hallyu star is slated to hold fan events in Taipei on April 29 and Hong Kong on May 5.
Lee Dong Wook's fan meeting tour will take the "Goblin" star to several Asian cities in the coming months. The actor is expected to hold fan events in Taipei in early April and visit Hong Kong, Singapore and Jakarta in May. Details of his other Asian fan meetings will be announced at a later date.
© 2021 Korea Portal, All rights reserved. Do not reproduce without permission.