Ji Soo Smitten By Sandara Park's Charm In An Episode Of 'Get It Beauty 2017'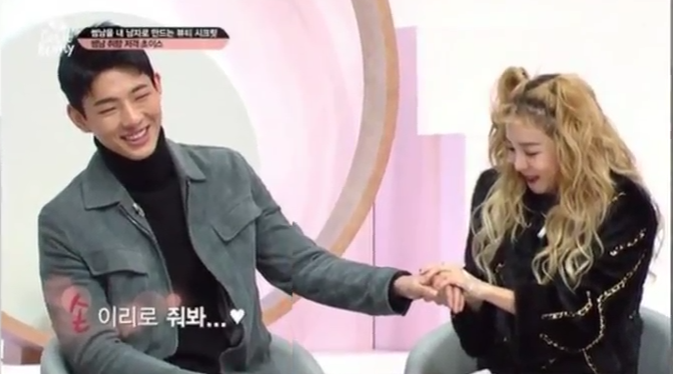 Hallyu actor Ji Soo (Kim Ji-soo) was recently spotted in one of the episodes of the South Korean TV show "Get It Beauty 2017" as he gave out some pointers to girls on how to catch guys' attention as White Day looms. Turns out, Soo got mesmerized with the show's host as it was very much evident on screen.
The said episode of "Get It Beauty" was aired on March 12 where the show's host - former 2NE1 member Sandara Park zeroed in on girls' "heart-stopping skills" in catching a man's attention. As aforementioned, Soo was a guest during that time and the two made quite a chemistry on TV.
Park then called Soo's attention in a very cute manner where the latter responded with an uncontrollable smile. Furthermore, Soo mentioned that the show's host is very lovely and went on saying that it was a happy day for him that made some folks on the set laughing, according to Soompi.
The sweetness level between Park and Soo reached a whole new level as co-host - Gugudan's Kim Se-jeong, pointed out some tips in "hand cream skill" as it was opened up by Park prior to Se-Jeong's. The two even participated in a small skit where Park held Soo's hand as she applied lotion onto the actor's hand.
Park, better known as Dara to most fans, on the other hand, is believed to be tapped to star in the South Korean rendition of the John Carney film "Begin Again." The film's Korean version, dubbed as "One Step," will tackle the story of a singer named Si Hyun (Park) as she is suffering from memory loss due to an accident, Stars Post has learned. Furthermore, the character sings fragments of a song during her sleep that got stuck on her mind. Meanwhile, Soo stars in the South Korean TV series "Strong Woman Do Bong-soon" that airs Fridays and Saturdays on JTBC. Watch the crowdfunding cut teaser for "One Step" here:
© 2023 Korea Portal, All rights reserved. Do not reproduce without permission.