'Vikings' Season 5 News: Lagertha & Harald Finehair Alliance, New Villains Appear
by
Mia L.
/ Feb 28, 2017 08:54 PM EST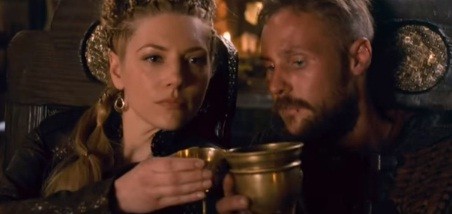 "Vikings" Season 5 would feature the shift in the spotlight from Ivar to his father Ragnar who met his death in the previous season. The unlikely heir to Ragnar's throne will have a lot of enemies in his path. Previous rumors hint Heahmund's role in challenging the young Viking but this is not the only villain for the upcoming season.
In "Vikings" Season 4, Ragnar's death is not the only tragic thing that happened. Left to their own devices, Ragnar's sons are bound to split into different camps especially after Ivar killed his older brother. The events are not going to be easy on Ivar and these challenges will be in the spotlight for Season 5.
"Vikings" Season 5 is one event to look forward to especially now that the events are becoming even more exciting. The rift between the brothers will continue to grow when someone claims the throne.
While Ivar's struggle with his brothers is an important matter, he also needs to deal with Harald who looked unusually happy in the trailer. A happy Harald is not a good thing since he is bent on destroying Ragnar Lothbrok's legacy. As reported in some outlets, this is not a good thing for Lagertha who will have a lot on his plate in "Vikings" Season 5.
With Ivar threatening him on one side and Harald on the other, Lagertha needs to make a wise decision soon. Ivar wants revenge for his mother and seeing the woman die would be a good thing for him. Given his untenable situation, Lagertha might opt to strike an alliance with Harald. Harald wants to rule all of Norway and Lagertha's support could be an important factor to make it happen.
Meanwhile, there are rumors that "Vikings" Season 5 will return in History Channel in November but this news has not been confirmed yet. Stay tuned for more "Vikings" Season 5
© 2018 Korea Portal, All rights reserved. Do not reproduce without permission.