Lee Min Ho's Girlfriend Suzy Surprised Fans With Waitress Role: Here's Why She Became A Restaurant Worker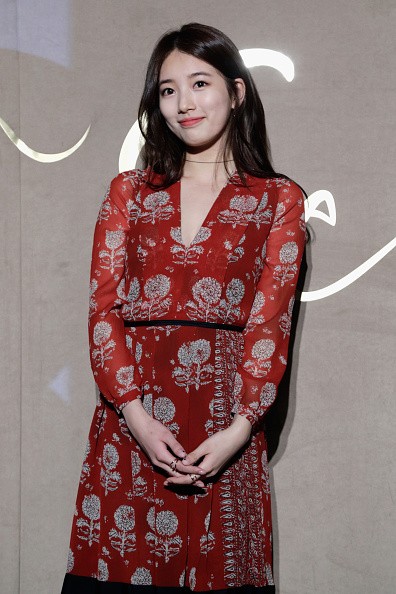 Lee Min Ho's girlfriend Suzy displayed her caring side in a thoughtful action that further endeared the singer to her friends and fans. Recently, the Kpop idol shed her Hallyu status to become a waitress at her pal's restaurant.
The Miss A singer extended her assistance to a sick friend by helping her pal run a restaurant. Suzy's good deed was revealed in the ninth episode of the Kpop idol's "Off the Rec. Suzy" reality show.
Released on Feb. 15, Wednesday, Lee's girlfriend became a part-timer at her friend's restaurant and helped to take the diners' orders, as well as deliver dishes to waiting customers, Soompi reported. Several restaurant patrons even conveyed their surprise at discovering that their waitress was a famous celebrity.
Suzy's down-to-earth personality also helped to remove some of the customers' awkwardness in the said situation. Apart from serving the diners, the South Korean singer even cleaned up tables and washed some of the dishes.
Moreover, the "Uncontrollably Fond" actress also looked after her sick friend by rolling up the sleeves of her pal's jacket. Suzy even ensured that her friend enjoyed a little bit of rest by immediately rushing off to serve customers and taking over some of her pal's waitressing tasks.
At the end of Suzy's shift, the Kpop idol revealed that she was worried that she might disrupt restaurant operations by offering to become a temporary waitress. She even studied the menu prior to arriving at the said café.
Meanwhile, the South Korean singer and actress was candid during a recent event for a Soju brand. Held on Feb. 14, Tuesday, in Seoul, Suzy, who was the brand ambassador for the said brand, revealed her drinking limit to the event attendees.
When asked how many bottles of Soju can the singer drink, Lee's girlfriend commented that her usual limit is one bottle, Korea Herald quoted Suzy as saying. Considered as Korea's version of vodka, the Miss A member also admitted that she can sometimes drink more than one bottle. The Kpop idol stated, "I enjoy drinking ... To be honest, I've never counted how many bottles I drank before."
Suzy is currently busy promoting her solo track "Pretend," as well as completing photo shoots for endorsement deals. She is also expected to make her TV drama comeback in the upcoming series tentatively titled "While You Sleep" with Lee Jong Suk.
© 2018 Korea Portal, All rights reserved. Do not reproduce without permission.