'Running Man' Lee Kwang Soo Becomes A Record-Breaking Spy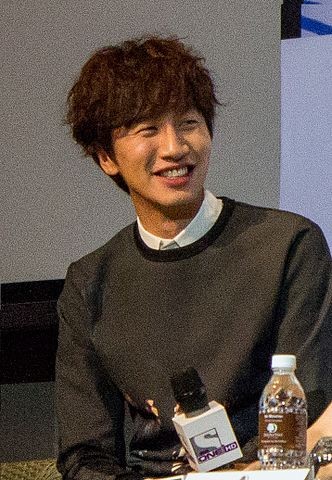 "Running Man" youngest member Lee Kwang Soo becomes a record-breaking spy in the latest episode of the variety show which brought hilarious frustration for the actor-comedian.
The youngest cast member also known as the Giraffe made a record-breaking performance as a spy to much delight of the viewers.
Unfortunately for Lee Kwang Soo, he just broke the record of the quickest time it took to be caught as "Running Man" spy.
The 31-year-old actor-comedian teamed up with Yoo Jae Suk as the secret spies tasked to steal away the members' clothes on Sunday's episode. The rest of the members quickly sniffed Lee Kwang Soo as the spy and so in just less than an hour, he was caught red-handed undertaking the secret mission.
Yoo Jae Suk successfully carried out the missions with the help of guests Red Velvet members and ended victoriously.
The 44-year-old host-comedian, also dubbed as The Grasshopper in "Running Man," was the only one who couldn't make it for their Asian fan meeting "Running Man Live 2017."
His management agency FNC Entertainment announced February 7 through their official Facebook page, "Yoo Jae Suk has an unavoidable recording schedule, so he has been confirmed to take an early absence."
They also issued a stern warning against those spreading false hopes among fans of the "Nation's MC" and even using his portrait rights in their illegal activities.
"However, false information has been spreading about how Yoo Jae Suk is able to attend the event, causing many fans to become confused. We request for no further damage to be done because of this. Yoo Jae Suk, as well as the company, has not authorized anyone in relation to these fan meetings," Soompi quoted the agency as saying.
The fan meeting kicked off Friday at Taipei World Trade Center in Taipei City, Taiwan where fans went wild when the five "Running Man" members transformed as Big Bang and rocked the stage with their performance of "Fantastic Baby."
Former "Running Man" member Gary made a surprise appearance and even sang two songs for the fans.
© 2023 Korea Portal, All rights reserved. Do not reproduce without permission.
Tags:
Lee Kwang Soo
,
Lee Kwang Soo Running Man spy
,
Gary
,
running man gary
,
kang gary
,
Yoo Jae Suk
,
Running Man Yoo Jae Suk
,
Running Man
,
running man latest news
,
running man news
,
running man latest update
,
Running Man episode
,
Running Man fan meeting
,
Running Man 2017 fan meeting
,
Running Man Big Bang
,
Big Bang
,
Red Velvet
,
Red Velvet Running Man