Girls Generation's Seohyun Reveals Shinee's Minho Is Her Ideal Type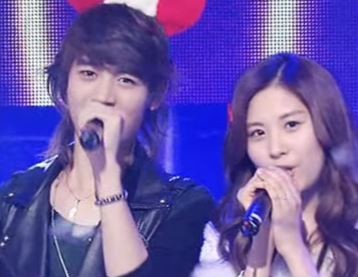 Girls Generation's Seohyun revealed Shinee's Minho is her ideal type if she were made to choose.
The 25-year-old Girls Generation member who's busy promoting her solo debut revealed she's close to labelmate Minho, who's also the same age as her.
Seohyun guested Wednesday on MBC's "Jung Yoo Mi's FM Date" where she was asked to choose between Shinee's Minho and former Shinee member Key.
"All three of us are the same age," all K-pop quoted Seohyun as saying before choosing Minho.
"I'm closer to Minho so...," she trailed off before adding, "Minho supports me a lot. He's a good friend."
The singer-actor has been linked to other labelmates in the past such as f(x) former member Sulli, also his co-star in the 2010 drama "To The Beautiful You," and another Girls Generation member Yuri, his co-star in music programs and concerts.
Minho, however, chose Seohyun over Yuri as his ideal type on SBS "Star King" where he said, "My ideal girl in SNSD is not Yuri, but Seohyun."
He fondly calls Seohyun by her unique nickname.
"Huh? It's Seo-roro," said Minho on OnStyle's "The TaeTiSeo" when he saw Seohyun walking into the show's waiting room.
"How long are you going to call me that?" asked Seohyun.
Minho then revealed, "That's what you're saved as on my Kakaotalk."
Minho also revealed that he thinks Seohyun is funny and that she's the nicest person he knows.
"[She] is the nicest person out of all the people I know. She's not very funny, but there are times when she is really funny," Soompi quoted Minho as saying on the comeback showcase of "TaeTiSeo" in 2014.
Seohyun, meanwhile, has been linked to another labelmate Super Junior's Kyuhyun whom he referred to as "just a close Oppa" while Kyuhyun also clarified that he thinks of the Girls Generation members as his younger sisters.
"Out of them, I just chose Seohyun as the one closest to my ideal type," said Kyuhyun on MBV's "Radio Star."
© 2023 Korea Portal, All rights reserved. Do not reproduce without permission.
Tags:
Seohyun
,
Seohyun dating
,
Seohyun Solo Album
,
Seohyun and Kyuhyun
,
Seohyun and Yonghwa
,
Seohyun and Minho
,
Girl's Generation's Seohyun
,
Girls' Generation
,
Shinee's Minho
,
Key
,
SHINee
,
Minho and Sulli
,
Minho and Yuri
,
f(x)
,
Sulli
,
Yuri
,
Girls' Generation's Yuri
,
Super Junior's Kyuhyun
,
Kyuhyun
,
Seororo