Big Bang's G-Dragon And Taeyang Begs T.O.P. Who Refuses To See Them Before Military Enlistment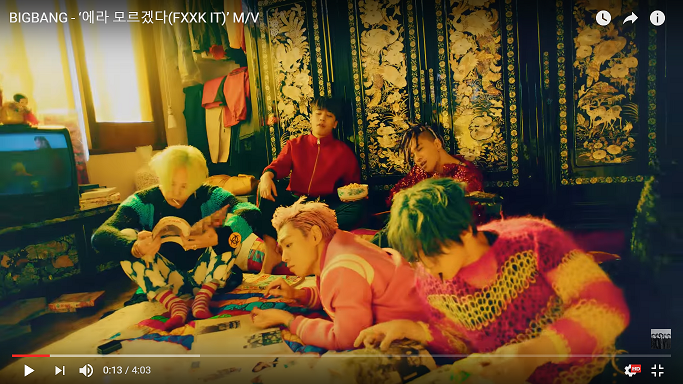 Big Bang members G-Dragon and Taeyang begged their oldest bandmate T.O.P. who announced he doesn't want to see them before his military enlistment.
T.O.P. took to Instagram Tuesday to announce to the world who he misses and why he doesn't want to see them.
"I miss my dongsengs, I'm not going to see them before enlisting because I'll miss them too much :P" wrote the 29-year-old main rapper as he posted a photo of Big Bang.
His younger bandmates G-Dragon and Taeyang, both 28, responded to the post in the comment section.
"You're such a monster," wrote G-Dragon with a reference to one of Big Bang's past songs "Monster."
He added, "Let's meet! Please Facetime me at least,hyung!"
Taeyang chimed in and said, "Please meet us~ please..."
Aside from his fellow members, T.O.P.'s fans are also eager to find out if they can greet the rapper-actor before he goes off to the military.
"T.O.P's military enlistment is coming soon," stated YG Entertainment. "It has not been decided whether he will greet the fans one last time on that day. We will need to discuss with him about that."
T.O.P. will start serving as a conscripted policeman Thursday and report to the Chungnam Nonsan Army Training Center for four weeks of basic military training. Once he's completed the training, he will then head to Seoul Metropolitan Police Agency and start serving as one of the members of the guard band.
The first Big Bang member to serve his mandatory military duty reportedly spent his last week before enlistment by taking some time off and resting.
The rest of the Big Bang members will concentrate on their solo activities this year as they're expected to follow suit in the military.
G-Dragon and Taeyang will launch their individual comeback albums later in the year.
© 2023 Korea Portal, All rights reserved. Do not reproduce without permission.