G-Dragon Reveals He Struggles To Quit Smoking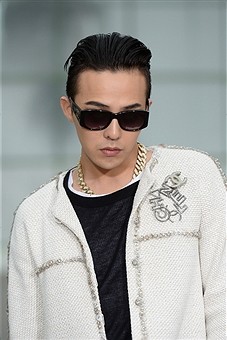 K-Pop Icon G-Dragon opened up his struggles to quit smoking after revealing that he's finally turning smoke-free this year.
Big Bang group leader G-Dragon revealed Tuesday just how much a struggle it is for him to leave smoking for good.
The 28-year-old singer-songwriter and fashion icon took to Instagram to share the struggle he's going through.
"It's too difficult to quit," wrote G-Dragon as a caption to an accompanying photo of his electronic cigarette stashed on his belt.
G-Dragon first revealed his New Year's resolution during a talk segment in Big Bang's last concert in Seoul held last month.
"There are some decisions that we've made for the new year," announced Seungri to the crowd.
"I stopped smoking, but I'm open to using an electronic cigarette instead," said G-Dragon as the audience applauded his resolve for a positive change.
Seungri then disclosed that Taeyang would usually take the front seat whenever they're travelling together in a vehicle. The two smokers G-Dragon and T.O.P. would sit on the front row so he and Daesung would have to take in the fumes while they sat on the back row with their funny faces.
"There are 2 smokers in Big Bang, and they're the reason why Daesung and I look like this," joked the youngest member of Big Bang.
T.O.P. revealed in 2011 that he started smoking again after the 2010 Blue Dragon Awards made him nervous.
"I was on my way to the ceremony when I suddenly felt really anxious and restless. So I ended up smoking the cigarette I had quit smoking for about 3~4 months," said T.O.P., according to bigbangupdates.
The oldest member of the group has also been criticized for dropping a cigarette butt out of a car window in front of his fans in China.
"When I'm smoking in a car or somewhere else, I throw the butts out in an ashtray, but I made a huge mistake as I was riding in someone else's car. Anyway, I have no excuse," Soompi quoted T.O.P. as saying after apologizing for his act.
© 2023 Korea Portal, All rights reserved. Do not reproduce without permission.