Mattis Tries To Dissipate Uncertainty Created By Donald Trump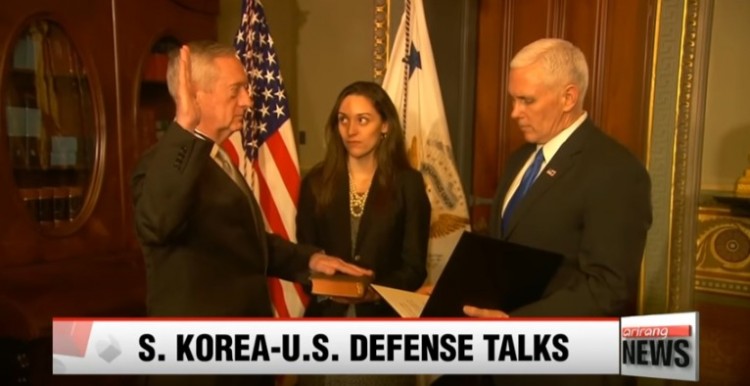 Secretary of State for Defense, James Mattis will visit South Korea from Thursday to move then to Japan in a first journey abroad that aims to dispel the enormous uncertainty generated by President Donald Trump among key allies of Washington in Asia.
A US spokesman quoted by Reuters on 27 July acknowledged that Mattis' trip is a message "for all the people who were worried during the campaign of who was then candidate, that the now president could be a skeptic of our alliances and I thought of abandoning our traditional leadership role in the region. "
The nearly 50,000 US troops deployed in Japan, there are 28,500 South Korea and the ships and aircraft deployed in both countries constitute the core of US strategy in the region.
On Monday, US President telephoned the leaders of both countries focusing on "the ironclad commitment" that holds the new administration with the defense of both nations, an expression used by the White House.
Meanwhile, Mattis was reported on Tuesday with his counterpart in South Korea, Defense Minister Han Min-Koo to reaffirm that the two nations agree to deploy this year the new missile shield (known by the acronym THAAD) in Asian territory despite strong opposition that has kept China in this regard.
This project could further aggravate the escalation of tension is recorded between Beijing, on one hand, and Washington and Seoul on the other.
According to a statement from the South Korean ministry, the two senior officials focused on "the need to push forward the deployment of the THAAD as planned" in 2016, when the two nations adopted this position following the two nuclear tests and the launch of more than 20 missiles who starred in North Korea in those 12 months.
"Concern that the (bilateral) alliance might falter after the inauguration is now out of the question," a South Korean Defense Ministry official told Yonhap news agency.
However, the real future of THAAD is as uncertain as the South Korean political scenario itself. The Asian state is undergoing a significant morass waiting for the Constitutional Court to confirm or reject the challenge is still the country 's president, Park Geun-Hye, the main promoter of the agreement with the US.
The THAAD has become one of the cardinal elements of the electoral pre-campaign that already is seen in the Asian nation before even knowing the legal verdict on Park since the polls assure that a majority of the population is shown opposite To the presence of the American missile shield.
© 2023 Korea Portal, All rights reserved. Do not reproduce without permission.