Kim Go Eun Feels Like Blowing The Candle Again After 'Goblin' Ended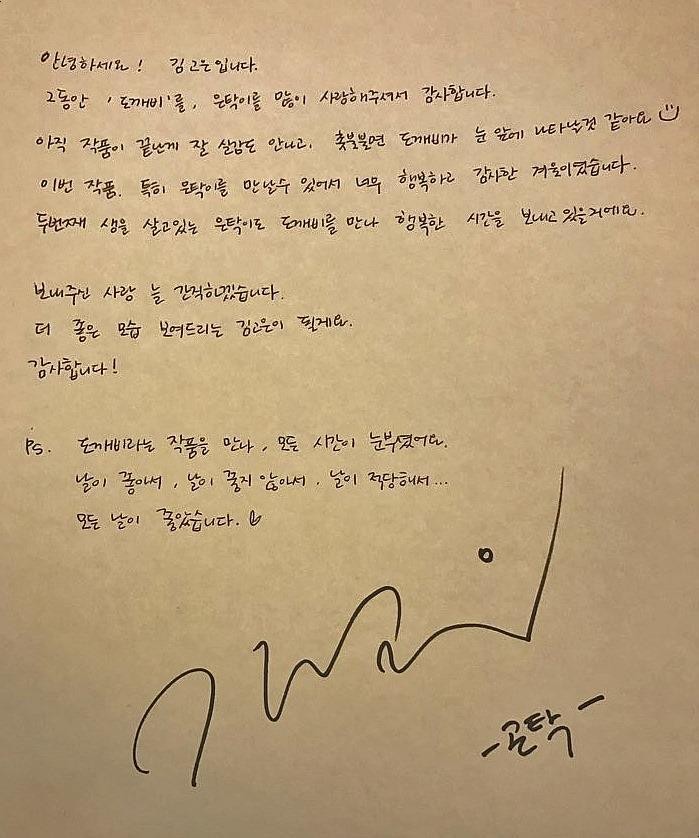 "Goblin" actress Kim Go Eun shared fans' sentiments as she felt like blowing a candle again to make the goblin re-appear after the record-breaking tvN show ended.
The 25-year-old actress who played the character of Eun Tak or the goblin's bride in the recently concluded romantic fantasy TV series penned a letter to fans to express her gratitude for supporting "Goblin" and her character.
Her management label HODU&U ENTERTAINMENT released Monday her handwritten letter for her fans entitled "Gon Tak's Letter."
She said:
I still can't believe the drama has ended and now I feel like blowing a candle will make a goblin appear
I am very happy for meeting "Eun Tak" through this drama; it was a very thankful winter.
Also, "Eun Tak" is living her second-life happily after meeting the goblin and I'm sure they are spending a very happy time together."
Kim Go Eun also promised to show her fans a better self.
She ended the letter by lifting a well-known line spoken by the goblin Kim Shin, "P.S After meeting the drama "Goblin", every moment was blindingly beautiful. Because the weather was great, because the weather was terrible, because the weather was perfect...every day was amazing."
Kim Go Eun's co-star Gong Yoo, who played the show's lead character, also left the viewers with his farewell message when the drama ended January 20.
Gong Yoo's special parting message for the "Goblin" viewers ended with a similar note to Kim Go Eun's.
According to Koreaboo, the latest tvN series smashed the highest record so far previously held by "Reply 1988." The 2015 tvN series ended with an average viewer rating of 19.6 percent and the highest at 21.6 percent while "Goblin" edged the past show with a score of 20.5 percent and the highest at 22.1 percent.
The entire cast and crew of "Goblin" will set off to Thailand for a vacation next month.
© 2023 Korea Portal, All rights reserved. Do not reproduce without permission.