'Goblin' Ends; Kim Go Eun Writes Thoughtful Thank You Handwritten Letter To Fans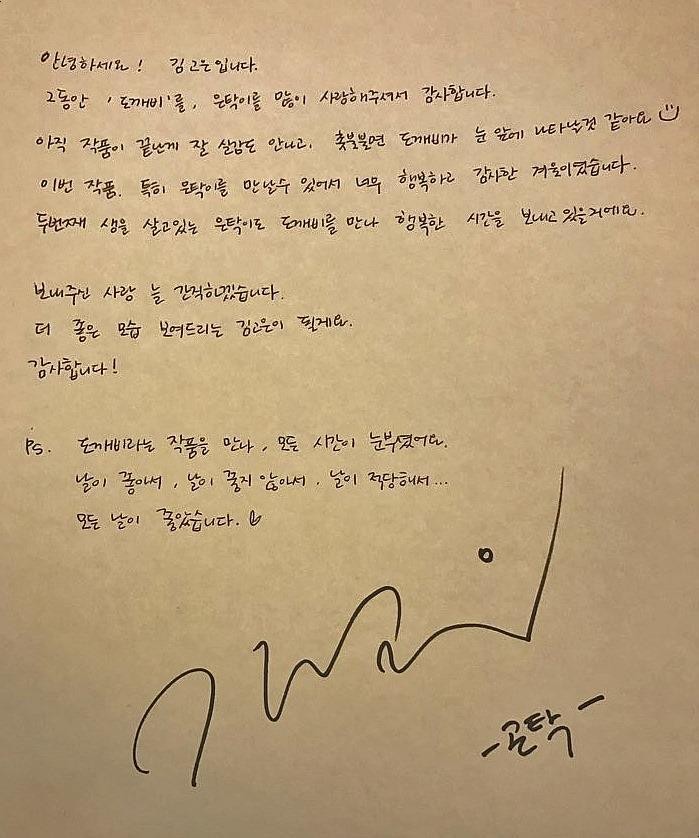 Fans were saddened by the end of 'Goblin: The Lonely and Great God' show. But star Kim Go Eun wrote a very heartwarming handwritten letter for her fans. The letter was uploaded on her agency's website to show how grateful she was for the millions of fans who turned in and supported the show throughout its airing.
It seems like the actress Kim Go Eun has been emotionally invested in Goblin. Not only in their characters and roles but also to everyone involved behind the scene. The hours they have spent together created a remarkable bonding experience as it looks like Kim is very much affected. The show was viewed by millions of fans and followed the story for almost 2 months. Kim Go Eun thanked everyone with her message below, as translated by Koreaboo:
"Thank you for supporting Goblin and 'Eun Tak' all this time. I still can't believe the drama is officially and now I feel like blowing a candle will make a goblin appear. I am very happy to be able to meet 'Eun Tak' through this drama; and I'm thankful for this winter. Also, 'Eun Tak' is living her second life happily after meeting the goblin and I'm sure they are spending a very happy time together. I will always treasure the love you have sent me and I will become a Kim Go Eun that shows a better self.
P.S. After meeting the drama Goblin, every moment was blindingly beautiful. Because the weather was great, because the weather was terrible, because the weather was perfect...every day was amazing."
She ended her letter with a signature "Go[eu]n Tak," a combination of her name and Eun Tak, her character's name in the show. The drama is officially over but the story has been embedded into our hearts. Also, there are still two special episodes to watch out!
© 2023 Korea Portal, All rights reserved. Do not reproduce without permission.