Big Bang To Make 'Touching' Last Performance Of 'Inkigayo'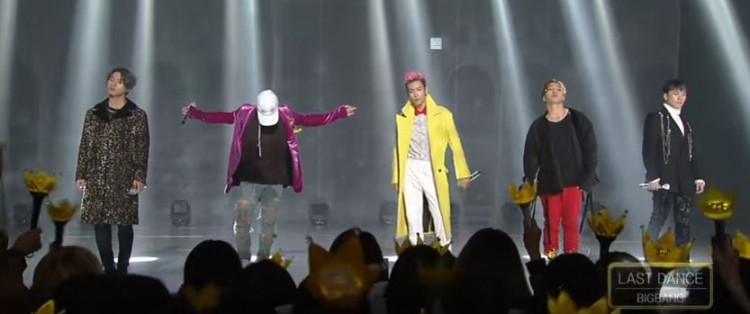 K-Pop idols Big Bang plans to end with a bang as oldest member T.O.P. makes a temporary bow and a step back from the limelight to serve his country.
Rapper T.O.P.'s scheduled military conscription is drawing nearer and nearer and Big Bang is doing everything they can to make a lasting memory. It will take some time before fans can see the five men again together.
According to allkpop, sources revealed that the group chose to make their final stage performance on SBS' music program "Inkigayo" slated this upcoming Sunday's episode.
"Big Bang is preparing to perform 'Last Dance' for fans," allkpop quoted the show's producer Cho Moon Joo as saying. "They're giving extra attention in many aspects. It'll be a touchy farewell."
T.O.P., 29, will be the first Big Bang member to be conscripted as a police officer in February. G-Dragon and Taeyang, both 28, planned to enlist this year and may serve their military duties in 2018. The youngest members Daesung, 27, and Seungri, 26, would enlist next year.
Big Bang already wrapped up their last two-day concert in Seoul over the weekend at the Gocheok Sky Dome. Their concert aptly titled '0.TO.10 Final in Seoul' was attended by fellow celebrities such as actors Park Bo Gum, Uhm Jung Hwa, Kim Hye Soo, Im Soo Jung and much more.
T.O.P. shed tears during their concert in Japan last year when the topic of his military conscription came up.
"The stage is always important but the dorm tour, and especially today's stage, holds extra special meaning," said the K-Pop star according to Japanese media outlet Nikkan Sports, as reported by allkpop. "People say there isn't much time left of the 5 of us together but I think the 5 of us will be together forever."
He also said about his bandmates, "A lot of things have happened but the 5 of us meeting each other is my most precious experience."
© 2023 Korea Portal, All rights reserved. Do not reproduce without permission.
Tags:
Big Bang
,
Inkigayo
,
T.O.P. mandatory military conscription
,
T.O.P.
,
T.O.P. Big Bang
,
T.O.P. military enlistment
,
Big Bang Inkigayo
,
Big Bang Last Dance
,
Inkigayo Cho Moon Joo
,
G-Dragon
,
Bigbang G-Dragon
,
Taeyang
,
Bigbang Taeyang
,
Daesung
,
Big Bang Daesung
,
Seungri
,
BIGBANG Seungri
,
Big Bang 0.TO.10 Final in Seoul
,
Park Bo Gum
,
Uhm Jung Hwa
,
Kim Hye Soo
,
Im Soo Jung