Big Bang's Last Concert In Seoul Attended By Park Bo Gum, Uhm Jung Hwa, Black Pink, BTS And More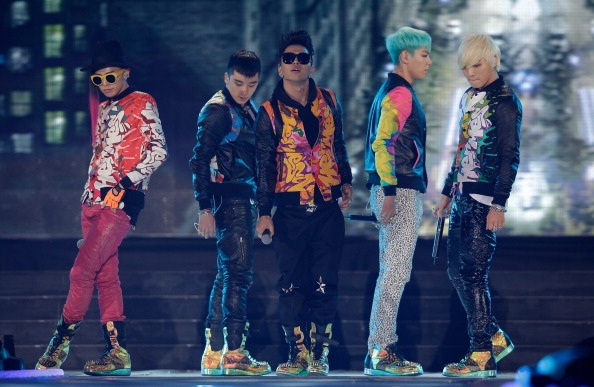 Big Bang's concert in Seoul Sunday night was a star-studded event that gathered fellow celebrities such as Park Bo Gum, Uhm Jung Hwa, Black Pink and much more.
K-Pop's biggest hip hop boy band's recent concert, considered to be their last one in the country before rapper T.O.P. leaves for military duty, was not missed by famous celebrities that joined over 60,000 fans during the 2-day show.
The 23-year-old "Love in the Moonlight" star Park Bo Gum, who revealed in a recent interview that he listens to Big Bang's new song "Last Dance" nowadays, showed up as part of the audience.
His "Reply 1988" co-star Lee Dong Hwi watched the show as well as "Series" actress Kim Hye Soo, "Sorry, I Love You" actress Im Soo Jung, singer-actress Uhm Jung Hwa and Korean-American artist Eric Nam.
Producing Director Kim Tae Ho showed up before heading overseas as news broke that hit variety show "Infinity Challenge" plans to go on hiatus.
Fellow idols were also present such as boy band BTS, former Beast member Hyunseung and girl group A Pink's Na-Eun.
Fellow YG artists girl group Black Pink, boy group WINNER, boy group Sechskies' Lee Jae Jin, singer Dara Park and YG CEO Yang Hyun Suk showed their support in attendance.
It was the after-event of the concert, though, that became more controversial when fans spotted G-Dragon kissing Dara after they exited from the venue.
Fans went into a social media frenzy with the hashtag #Daragon but YG Entertainment quickly responded on the issue.
"It was a simple incident," stated YG. "G-Dragon requested to Dara, 'Let's try to get a picture taken of a pose like this,' as a joke, and that pose was shot in a picture, that is all. They are not dating."
Big Bang kicked off their '0.TO.10 Final in Seoul' concert Saturday and Sunday at the Gocheok Sky Dome.
© 2023 Korea Portal, All rights reserved. Do not reproduce without permission.
Tags:
Big Bang
,
Park Bo Gum
,
Uhm Jung Hwa
,
Black Pink
,
T.O.P.
,
T.O.P. mandatory military conscription
,
T.O.P. military enlistment
,
Big Bang Last Dance
,
Reply 1988
,
Lee Dong Hwi
,
series
,
Kim Hye Soo
,
sorry
,
I Love You
,
Im Soo Jung
,
Eric Nam
,
PD Kim Tae Ho
,
Infinity Challenge
,
BTS
,
Beast
,
Hyunseung
,
A Pink
,
Na-Eun
,
A Pink's Na-Eun
,
YG Entertainment
,
YG artists
,
Winner
,
SECHSKIES
,
Lee Jae Jin
,
Sechskies' Lee Jae Jin
,
Dara Park
,
Sandara Park
,
G-Dragon and Dara Park
,
Dara Park dating
,
YG CEO Yang Hyun Suk
,
G-Dragon
,
G-Dragon Dara
,
#Daragon
,
Big Bang 0.TO.10 Final in Seoul