Big Bang Members Show G-Dragon How To Do 'Gwiyomi'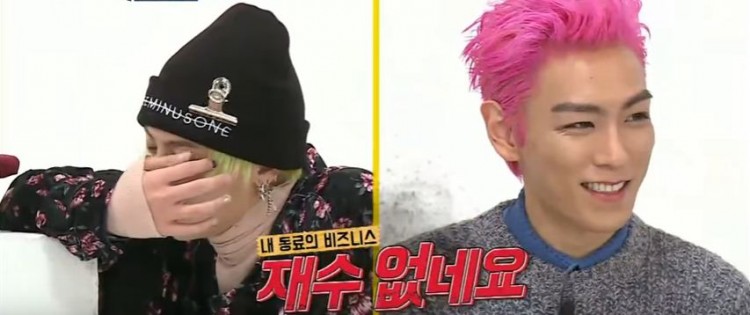 The rest of the Big Bang members showed their leader G-Dragon how to properly do the popular "Gwiyomi" meme but in a hilarious twist.
Viewers watched how the hottest K-Pop boy band Big Bang tried to show off their cuteness on MBC's "Weekly Idol" Wednesday episode as they did their own versions of the "Gwiyomi (Cutie) Player" meme.
The show played a clip of G-Dragon who performed the "Gwiyomi Player" when he made a guest appearance in 2013. The 28-year-old singer-songwriter and fashion icon cringed as he watched the clip being played and looked embarrassed.
The MCs then turned to his bandmates to ask for comments on G-Dragon's performance.
"That's the worst," said the oldest member T.O.P. which caused a riotous laughter to everyone.
The four members then competed on their own renditions. G-Dragon would choose the winner among them and award the person with his credit card as a prize.
"Whoever gets me angry from being too cute will win," he said.
Daesung, the 27-year-old Big Bang member who's shown his mettle at comedy by hosting variety shows in the past, started strong by making a funny face and doing a funny dance.
Taeyang followed next but the 28-year-old balladeer looked less confident as he did a simple rendition of the meme.
T.O.P., 29, then raised the ante again by deliberately overdoing the act with a silly performance. He poked at his eyes, tried to insert both of his fists into his mouth, pouted his butt to the audience and then placed his hands inside his mouth again before he turned to rub it off on Seungri.
The 26-year-old Seungri was proclaimed the winner when he made everyone laugh so hard with his gayish yet suave hilarious performance. He even included Wonder Girls' "Nobody" dance act.
G-Dragon didn't wait for him to finish so Seungri said, "There's more! There's more at the end!"
In another segment of the same show, the four members except for Seungri were asked to dance to some girl group songs.
G-Dragon eventually complained, "This is the hardest I've worked in 10 years of broadcast. Why am I doing this here?"
© 2023 Korea Portal, All rights reserved. Do not reproduce without permission.