Big Bang's Seungri Reveals Conflicting Love Interest Made Him Shut Idol Academy Down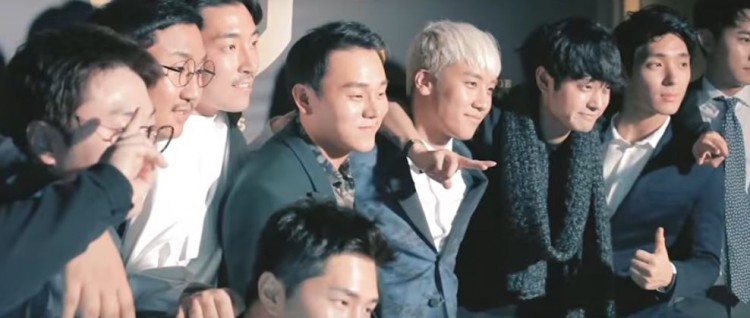 Big Bang's Seungri revealed it was a conflicting love interest that made him decide to shut down his successful idol academy.
The youngest Big Bang member explained what made him decide to close a successful business venture when the hottest hip hop boy band appeared Wednesday on MBC's "Weekly Idol."
Rapper and comedic TV personality Defconn brought up the topic of the 26-year-old Big Bang member's music academy.
"I ran a vocal and dance academy, which was responsible for creating many idols," said Seungri, who clarified that he didn't personally run the business but that his employees worked hard for it.
"There was a member of Teen Top and a variety of other junior singers," he said.
This includes WINNER's Kim Jinwoo, BTS's J-Hope, VIXX's Hyuk, B.A.P.'s Zelo and Lovelyz's Mijoo.
"A little while ago, I closed it down because there was a bit of an issue," Seungri revealed. "One of the teachers became romantically involved with a student. I got a call from the student's parent, complaining that their daughter wasn't returning home. What was I to do? Honestly, I wasn't directly running the academy, so I closed it down to prevent a huge misunderstanding from happening."
Comedian and entertainer Jeong Hyeong Don then asked if the rest of the Big Bang members already knew about it but 27-year-old Daesung clarified that it was their first time hearing about it as well.
Seungri is considered as the businessman in the group and owns multiple businesses such as a bar and a ramen restaurant. He explained that he turns to business to relieve stress and that he keeps 3,200 contacts on his mobile phone.
He also admitted to getting scammed a lot over the past decades as well as having a string of failed business ventures.
He surprised G-Dragon when Seungri revealed that he owns the management license for football star Cristiano Ronaldo.
He also wowed others and earned the moniker the "Great Seungri" when he threw an extravagant Christmas party called "Gatsby's Fantastic Festival."
© 2023 Korea Portal, All rights reserved. Do not reproduce without permission.
Tags:
Big Bang
,
Big Bang Weekly Idol
,
Weekly Idol
,
Big Bang Seungri
,
Seungri
,
T.O.P. Big Bang
,
Big Bang G-Dragon
,
Big Bang Daesung
,
Big Bang Taeyang
,
G-Dragon
,
Daesung
,
T.O.P.
,
Taeyang
,
Defconn
,
Jeong Hyeong Don
,
Great Seungri
,
Gatsby's Fantastic Festival
,
Cristiano Ronaldo
,
Seungri Cristiano Ronaldo
,
Seungri idol academy
,
WINNER's Kim Jinwoo
,
Kim Jinwoo
,
BTS's J-Hope
,
J-Hope
,
VIXX's Hyuk
,
Hyuk
,
B.A.P.'s Zelo
,
Zelo
,
Lovelyz's Mijoo
,
Mijoo