SM, YG And JYP: The Big 3 K-Pop Entertainment Agencies Reveal Their Plans For 2017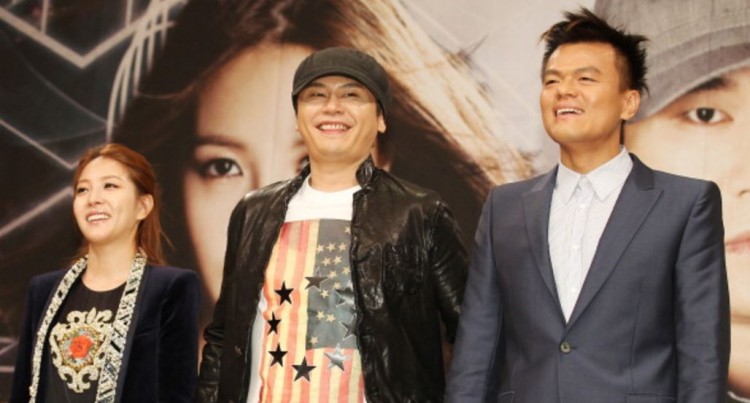 SM Entertainment, YG Entertainment, and JYP Entertainment are all ready to welcome 2017 with anticipated big plans for the new year. According to Xportsnews, via SBS, the three biggest agencies housing some of the biggest K-pop groups have already teased their fans and supporters for what's to come.
Starting with SM Entertainment, headed by CEO Kim Young Min, the label is ready to go all-out for 2017 preparing top idol groups from different generations. SM are already planning the activities for TVXQ and S.E.S, a back-to-back comeback of the "King" and "Queen" of k-pop in their own times. Another familiar name k-pop fans will be hearing from SM next year is Super Junior. As Super Junior's members Shindong, Sungmin, Eunhyuk, Donghae, and Siwon will be returning from their military enlistment, the comeback of these idols indicate a potential comeback by the group. SM will also extend the activities for their new generation group NCT, who just won "Best male rookie award." Finally, SM will be prepping for their currently hottest group EXO to make their comeback as a group.
Moving to YG Entertainment, led by CEO Yang Hyun Suk, the agency is said to be preparing comebacks for WINNER, and iKON for 2017. WINNER will be re-branded next year after one of the members, Nam Tae Hyun, announced his exit from the group. YG also plans to release a new album for Akdong Musician titled "Winter," before Chanhyuk begins his military enlistment. Speaking of military conscription duties, YG re-confirms BIGBANG's T.O.P will be enlisting next year hence the group's activities may quiet down, although that is not to say BIGBANG's members' solo careers won't make the highlight for 2017. Black Pink and SECHS KIES are also packed with scheduled activities while Psy, Epik High, and other artists under the label will continue to work on their music.
Finally, JYP Entertainment, founded by Park Jin Young, is also planning comebacks and activities for its artists. JYP is reportedly planning to concentrate on GOT7 and TWICE's domestic events as well as further expanding their international activities. DAY6 have plans to release new music, while Baek A-Yeon, Baek Yerin, and Park Jimin are also said to be working on their activities. 2PM will be working on members' individual careers before the members enlist for the army. Finally, JYP is preparing Miss A's Suzy for her upcoming solo debut in January.
With this, k-pop fans have much to anticipate for 2017.
© 2023 Korea Portal, All rights reserved. Do not reproduce without permission.