Park Bo Gum To Reunite With Irene Onstage At '2016 KBS Entertainment Awards'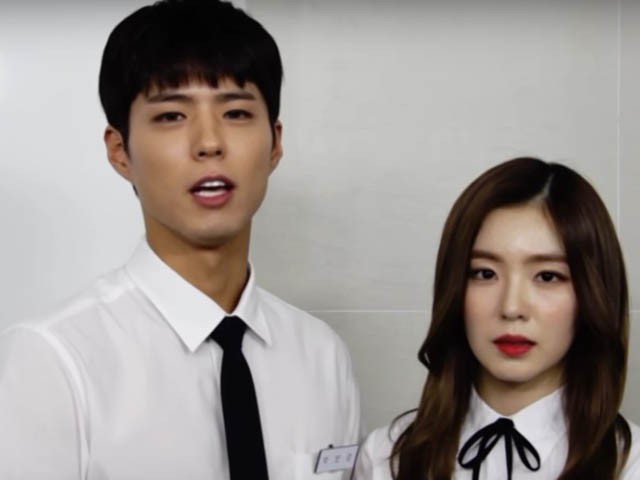 Actor Park Bo Gum and Red Velvet's Irene are expected to thrill audiences again as they reunite as presenters on this year's KBS Entertainment Awards.
"On '2016 KBS Entertainment Awards' airing the 24th at 9:15 p.m., Irene and Park Bo Gum, who've worked together as the MCs of 'Music Bank' until June, are reuniting as the presenters," revealed KBS on Tuesday, as reported by Koreaboo.
The two celebrities were former "Music Bank" MCs from 2015 to 2016. They both thrilled audiences with their on-screen chemistry and were rumored to be a real-life couple.
The 23-year-old actor, who soared through sweeping popularity from his roles in "Reply 1988" and "Love in the Moonlight," revealed that they don't even have each other's contact numbers.
"Irene and I worked well together, but we weren't close enough to contact each other. Honestly, I don't even know her phone number," Soompi quoted Park Bo Gum as saying in an interview.
The 25-year-old girl group leader, on the other hand, confessed that the young actor did make her heart jump.
"There was a time he made my heart flutter but for a different reason. It was when he said my real name (Bae Joo Hyun). I was sincerely surprised," Irene said in an interview, according to Koreaboo.
She also revealed what she thought was Park Bo Gum's best asset.
"He has this way of looking ng at other people," Irene told KBS2's "Entertainment Weekly," as reported by Soompi.
She said she wasn't jealous between Park Bo Gum and his "Love in the Moonlight" co-star Kim Yoo Jung but thought their tandem in "Music Bank" was better.
"We were able to joke around while on the live broadcast. In that particular aspect, wouldn't we be better?" said the singer.
Park Bo Gum is currently busy with his "2016-2017 Park Bo-gum Asia Tour Fan Meeting." He kicked off the Asia Tour in Malaysia and then proceeded in Hong Kong.
According to KpopHerald, the actor was greeted by 4,000 fans on this second leg of his tour.
"I'm happy because I can spend precious time with you before Christmas and thank you," KpopHerald quoted Park Bo Gum as saying. "I'll study foreign languages hard so I can directly talk with my fans in Hong Kong sometime later."
© 2023 Korea Portal, All rights reserved. Do not reproduce without permission.
Tags:
Park Bo Gum
,
2016-2017 Park Bo-gum Asia Tour Fan Meeting
,
Park Bo Gum and Irene
,
Red Velvet Irene
,
Irene
,
Park Bo Gum and Kim Yoo Jung
,
Kim Yoo Jung
,
Music Bank
,
Park Bo Gum Music Bank
,
Irene Music Bank
,
2016 KBS Entertainment Awards
,
Park Bo Gum 2016 KBS Entertainment Awards
,
Park Bo Gum and Irene 2016 KBS Entertainment Awards
,
Park Bo Gum Hong Kong
,
Park Bo Gum Malaysia