Fans React To Photos Of Lee Byung Hun Kissing Another Woman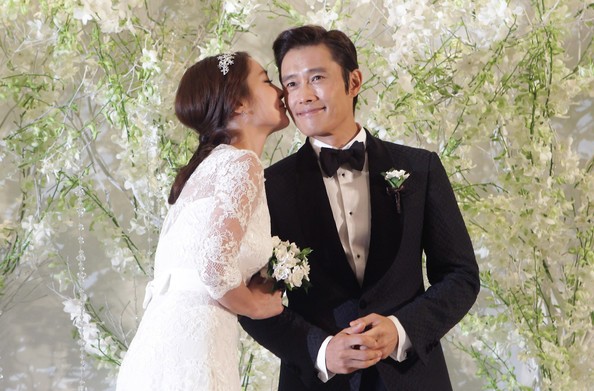 Netizens had been reacting to a photo of actor Lee Byung Hun that had been rounding the internet today.
In the said picture, the actor was seen hugging and kissing another woman. What angers the netizens the most is the fact that his wife, Lee Min Jung, was seen sitting right next to him when it happened. The netizens were very mad at the idea of him flirting with another woman even when his wife is with him.
The photo is said to be taken right after the '2016 Mnet Asian Music Award'. The couple was said to have attended an after party with some friends after the event at a bar. There the actor was caught on cam putting his arm around the shoulder of another woman, and even giving her a kiss on the cheek, even with his wife sitting right across to him.
Some netizens were very mad at the incident and were expressing through comments how bad they felt for Lee Min Jung. Some were even telling the actress to divorce him already.
Lee Byung Hun's label, BH Entertainment, however, stepped in to defend the actor.
"The woman is someone that Lee Byung Hun has been friends with for a ver long time. His wife Lee Min Jung, Han Hyo Joo, and more were also present. The two are very close and we believe their expression of friendliness has become a cause of misunderstanding," said the agency.
The label also clarified that Lee Byung Hun and the woman are like family.
The netizens are still not buying the explanation. After the blackmail scandal that involved the actor last year with two young female celebrities, they knew that the actor is very much capable of doing what he is accused of right now. Lee Byung Hun was involved in a scandal last year when he reported two other celebrities, GLAM's Dahee (20) and model Lee Ji-yeon (25), for blackmailing him. The women blackmailed him of sharing a video of him making inappropriate sexualized comments to the ladies while drinking if he refuses to give them a huge amount.
© 2023 Korea Portal, All rights reserved. Do not reproduce without permission.