TWICE's Mina Wearing Hat with Japan's Rising Sun Flag Reopens Issues on K-pop Artist's National Controversies
by
regrec
/ Dec 05, 2016 07:02 PM EST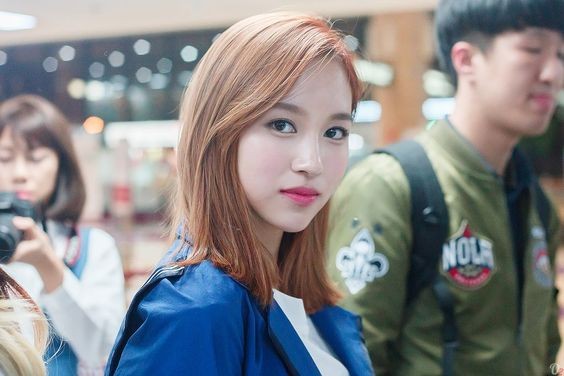 TWICE's Mina has been caught on camera donning a hat which featured Japan's rising sun flag. While the artist has worn the fan-given item for only a brief moment, it was more than enough to reopen the highly scrutinized K-pop controversies that cross the line of entertainment to serious political matters.
During a fan meet, TWICE's Mina was captured wearing a hat of Mt. Fuji that had the Japan's rising sun symbol. For people who are familiar with history, or for K-pop fans that are familiar with Tiffany of Girl's Generation's past controversy, the photo of Mina could have marked her as the next hated victim for becoming a clueless suspect that evoked a taboo subject.
Fortunately, fans were quick to shield Mina for almost poking a sensitive subject and even the fan who gave Mina the hat immediately made a public apology to emphasize Mina's blamelessness on the matter.
"I hand[ed] over the Mt. Fuji [hat] to Mina. I hadn't checked thoroughly and I didn't [expect] that [the] Japanese [Imperial] flag was attached," the fan explained on a social network site, as cited by Koreaboo. "It occurred due to my carelessness. I would like to apologize [to] Mina, TWICE, and all of ONCE. I'm so sorry."
Japan's rising sun flag is a symbol of the country's colonial periods and is a painful reminder for Koreans and for other countries who were once subjected under their rule. Combined with the fact that Mina is Japanese, the situation could have incited public outrage. The situation was narrowly avoided as TWICE's manager was quick in noticing the mark and immediately taking it off Mina.
The 19-year-old singer who was seen in the video donning the hat for not even a minute has unknowingly faced what could've been a critical situation in her K-pop career. Notably, this could have done potential damage to TWICE and its agency JYP Entertainment, who just dealt with member Tzuyu's nationality scandal that stirred Korea-China political and economic relations. Furthermore, Mina could have been the next case that followed Tiffany of Girl's Generation who faced heavy consequences after using the rising sun design on her SNS post during Korea's National Liberation Day. This event has ultimately reminded Mina, TWICE, all K-pop artists and even fans that even entertainment has national boundaries that are not to be taken lightly.
© 2023 Korea Portal, All rights reserved. Do not reproduce without permission.