SECHSKIES Admits Feeling Disappointed On News Of Go Ji Yong Filming "The Return Of Superman"
by
regrec
/ Dec 02, 2016 06:59 AM EST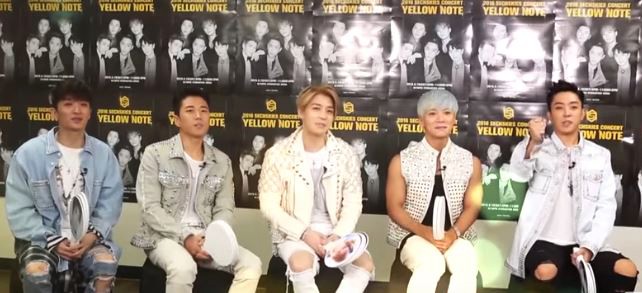 Idol group SECHSKIES expressed their disappointment over Go Ji Yong's return to the entertainment industry but not in the group.
"When we first saw reports about him on "The Return of Superman", we were a little disappointed," Eun Ji Won shared in an interview, as cited by Allkpop.
Just recently, it's been confirmed that SECHSKIES original member Go Ji Yong is taking part in KBS variety show "The Return of Superman." This shocked many as the non-active member have since been staying away from the spotlight when the idol group disbanded.
Though SECHSKIES could not help but feel the disappointment on not having Go Ji Yong back, they still expressed their support for their ex-band mate.
"But it's okay. He has a career, and during the day, he has to focus on that," SECHSKIES stated. "We heard that recordings for 'Superman' take place on the weekends.
"If he were filming it by making room in his work schedules during the weekdays, we would have been upset, but since it's on the weekends, we'll acknowledge his decision."
The group also said that they would very much like to visit Go Ji Yong and his family on "The Return of Superman" if he asked them to, as per Soompi.
On Nov. 30, "The Return of Superman" production announced that Go Ji Yong agreed to become a fixed member of the show. This marks the official comeback of the artist in the entertainment industry since the disbandment of SECHSKIES back in May 2000.
Also, to stir clear of expectations of him returning to SECHSKIES, Go Ji Yong explained his sentiments on the matter.
"As a patriarch of a family, I may not be able to promote a SECHSKIES member," The father of a three-year-old stated. "But I decided to appear [on the show] in order to keep a promise I made with the fans."
"The Return of Superman" expects that viewers, especially dads, to relate with Go Ji Yong who works regular jobs during the week and mainly see his family on the weekends. Meanwhile, Go Ji Yong expects that this opportunity can help him spend more time with his son and become a better dad.
Go Ji Yong will start filming "The Return of Superman on December, just as SECHSKIES is expected to drop their remake album "2016 Re-ALBUM" on December 1 at midnight KST, along with a music video for title track "Couple."
© 2023 Korea Portal, All rights reserved. Do not reproduce without permission.