Legend of the Blue Sea Episode 2 Recap: The First Kiss
by
Allan
/ Nov 18, 2016 06:19 AM EST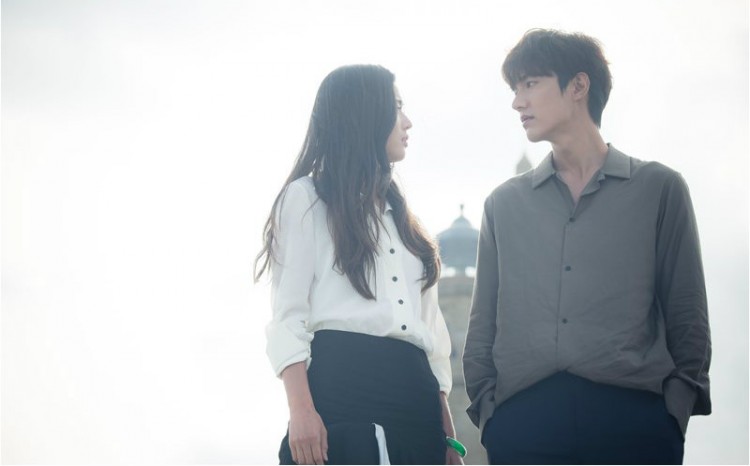 The "Legend of the Blue Sea" episode started with a short flashback when the new mayor Dam lights up wish lanterns for the local children. Accidentally, one was set loose and fell down to the shore. On his way down, he finds the mermaid again. But a mermaid hunter who heard about their encounter is determined he will find her too if he just follows the Mayor around.
Back to Dam-ryung, the mermaid speaks to him and calls him "scholar". The mayor was surprised how come she can speak their language but the mermaid said there are nothing humans can do that mermaid can't. He then asked why she didn't talk in their first encounter, she said she did but the mayor just didn't hear her. The mayor was hoping to see the mermaid again so she told him to light a lantern whenever he wanted to meet. One night, the mermaid saw a glowing light above the sea and as she swims to the direction, she saw the whole valley filled with lit lanterns. This is where it gets more exciting in "The Legend of the Blue Sea" series.
Fast forward in today's time, Joon-jae comes back for Shim Chung so he can say goodbye properly. So when he finally found her, he said his goodbye and left quickly. But as he rides his car, he saw the girl already inside, shaking. He had no choice but to take her in since it looks like she has no other place to go. He brings her to his hotel and takes a shower while Shim Chung plays with the lights in their room. Joon-jae got annoyed and placed her against the wall with his face too near hers and told her to stop. For a moment there, Joon-jae noticed the girl got a bit shy.
As the day goes by, Joon-jae's con team calls him to let him know that their latest victim was not just a CEO but also a loan shark. He sent out people to hunt Joon-jae's team down. And it looks like they already found him by tracking him using his phone. But Joon-jae quickly thought of a plan and as the men came barging in, they thought a bomb was about to explode so they took cover. Joon-jae were able to escape but it looks like the men are gaining on them. Luckily, Joon-jae was able to find a bike while the mermaid effortlessly hit them.
They went to a church where another of Joon-jae's friend is pretending to be a priest. He asks for Joon-jae's help in exchange for having a part of the money he will get there. So after the job, Joon-jae went with the mermaid to a place called "The end of the world". Unfortunately, the bad men was able to intercept him and went to the location too.
It turns out that the place is a memorable location when he was still a child. But as he narrates what happened to him, the bad men suddenly came to hurt them. They have nowhere else to go but to jump down to the ocean. Joon-jae admits he is scared of heights but he had no choice.
Then the magical moment in "The Legend of the Blue Sea" started when the mermaid turned to her true form. As Joon-jae discovers the truth, she pulls him for a kiss.
"The Legend of the Blue Sea" airs every Wednesday and Thursday on SBS.
© 2018 Korea Portal, All rights reserved. Do not reproduce without permission.