Samsung Offers Discounts To Note 7 Owners
by
YuGee
/ Oct 25, 2016 06:42 AM EDT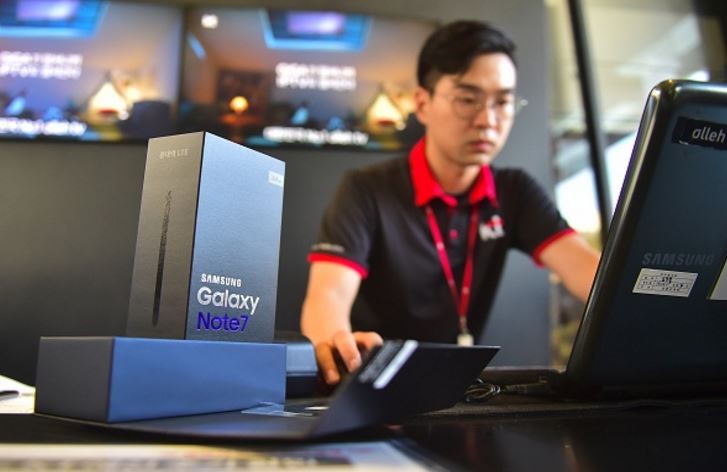 Samsung Electronics is offering 50 percent discounts to previous Galaxy Note 7 users who replaced their units to the Galaxy S7 smartphone or Galaxy S7 Edge, and who are also planning to upgrade their devices to the upcoming S8 or Note 8 in 2017.
The "Galaxy Upgrade Program" aims to convince present and former Galaxy Note7 users to replace their smartphones to either S7 or S7 Edge. The users are also advised to visit a phone store and cancel their telecom subscription.
A report from the Korea JoongAng Daily states, "They should sign a new 24-month contract for either the S7 or S7 Edge. When Samsung releases the Galaxy S8 in March 2017 and the Note8 in September, the customers can switch to the new models without having to pay 12 months of the balance for the S7 or S7 Edge. They will have to pay the full price for the S8 or Note8."
The program focuses on encouraging loyal Note7 users to return and replace the problematic model and to lure customers in advance to the new smartphone models that Samsung will release. The company is attempting to avoid defections to Apple's newly-released iPhone7, which has been enjoying a favorable sales record since the device was launched in South Korea last Friday.
A spokesman for Samsung said, "We have devised the upgrade program to ease burdens for the customers purchasing the next Samsung flagship smartphone models for next year. As the Korean Agency for Technology and Standards has recommended, Note7 users are advised to have their phones replaced for safety's sake."
Those who will join the program which is scheduled to last until November 30, will also be entitled to other benefits namely 30,000 won ($26.51) worth of mobile vouchers that they can use on the Samsung online mall and a discount of 70,000 won on a month's worth of phone bill. Samsung offers 50 percent discounts on fees for fixing the screen on two different instances as well.
© 2019 Korea Portal, All rights reserved. Do not reproduce without permission.