US, South Korea Kick Off Joint Naval Drill
by
YuGee
/ Oct 11, 2016 06:00 AM EDT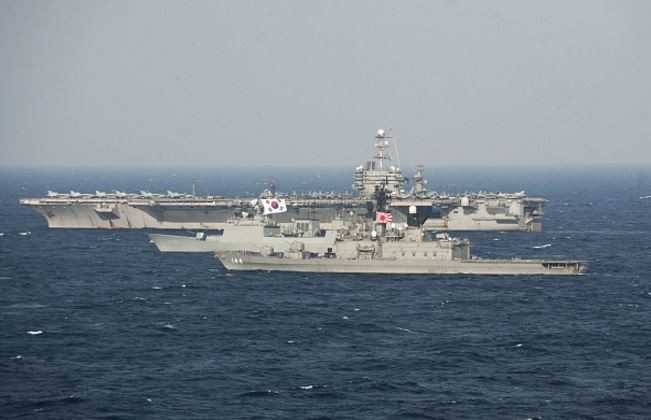 On Monday, allied countries South Korea and the United States started a large-scale joint naval drill that involves a nuclear-powered aircraft carrier to further boost its commitment to discourage nuclear and missile provocations from North Korea.
The Korean Herald reported that the Invincible Spirit program is scheduled to run until Saturday in the waters surrounding the Korean peninsula. It kicked off amidst the speculations that North Korea would fire another long-range missile or a nuclear test to celebrate the founding of its ruling Workers' Part on October 10.
During a news briefing, South Korean Defense Ministry spokesperson Moon Sang Gyun stated, "This drill is designed to show the alliance's robust resolve for retaliation against a series of North Korean provocations, and improve the two nations' joint combat capabilities."
Regarding the prospects for the North's provocations, Joint Chiefs of Staff spokesman Col. Jeon Ha Kyu mentioned that the regime shows that it is "ready for a nuclear test at any time and it is a matter of decision" by its leader.
Jeon further said, "With the possibilities of North Korea's strategic and tactical provocations in mind, we are closely tracking and monitoring related movements. We are also maintaining a corresponding readiness posture."
The 97,000-ton Nimitz-class carrier can carry around 90 jets including F/A-18 Super Hornet fighters, EA-18G Growler electric warfare planes, and E-2C Hawkeye early warning aircraft.
In a statement, the Navy in South Korea said that the said joint naval drill is anticipated to prepare other main assets of the two countries' Navies, Air Forces, and Armies. Included are some 40 South Korean warships led by the Aegis-equipped destroyer King Sejong the Great, seven United States vessels that include Ticonderoga-class Aegis missile cruisers, P-3 and P-8 maritime patrol aircraft, and Apache helicopters.
In the East and West Seas, the United States and South Korea intend to execute maritime counter special operations force, a program which is set to defeat North Korean special agents who aim to penetrate from the rear.
© 2023 Korea Portal, All rights reserved. Do not reproduce without permission.