Jessica And Krystal Jung Spotted In Los Angeles For Their Latest Project Together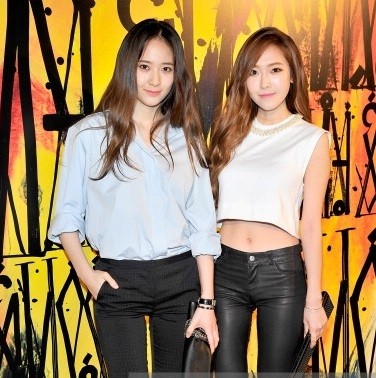 Jessica Jung and Krystal Jung were spotted in Los Angeles for the shooting of their latest project together.
The popular South Korean celebrity sisters Jessica and Krystal Jung looked relaxed and chic as they visit the streets of Los Angeles for a photoshoot.
Jessica Jung is a former member of the popular South Korean girl group Girls Generation and currently a solo artist in the country while Krystal Jung is a member of f(x) and the youngest among the Jung siblings. The great concern and affection between the sisters was shown in an interview on the Chinese talk show where Jessica talked about Krystal's habits of sending postcards to their family members.
In 2014, the Jung sisters revealed a heart-touching statement for each other during the show "Jessica & Krystal". Krystal prepared a surprise event for Jessica with a letter saying that she will always be on Jessica's side.
"I'm so glad to have you on my side. I'm always on your side too. Thank you, always. Let's stop crying now," reads Krystal's message to Jessica.
On October 7th, the Jung sisters participated in the shoot for a fashion brand, Samantha Thavasa. The photos of Krystal and Jessica will be included in the upcoming issue of the magazine Cosmopolitan Korea.
The close companionship between the sisters stood out from the photoshoot as they casualy walked around the streets of Los Angeles, United States. There was a point where Krystal played the role of a photographer at the shoot while Jessica struck a pose.
Moreover, with the contrasting outfits of Krystal and Jessica, they boasted their superior visuals in a chic yet casual look. Many fans admire the close relationship of the Jung sisters despite many controversies they have been through like the negative feedbacks from fans when Jessica left Girl's Generation and when Krystal revealed her relationship with the EXO member Kai, from which she received lots of hatred and criticisms.
Currently, Jessica Jung is focusing on her work as host, actress, singer and designer, while Krystal Jung just finished filming Chinese drama entitled "Graduation Season."
© 2021 Korea Portal, All rights reserved. Do not reproduce without permission.