U.S. Senators Present Resolution Denouncing North Korea's Nuclear Test
by
YuGee
/ Sep 19, 2016 06:25 AM EDT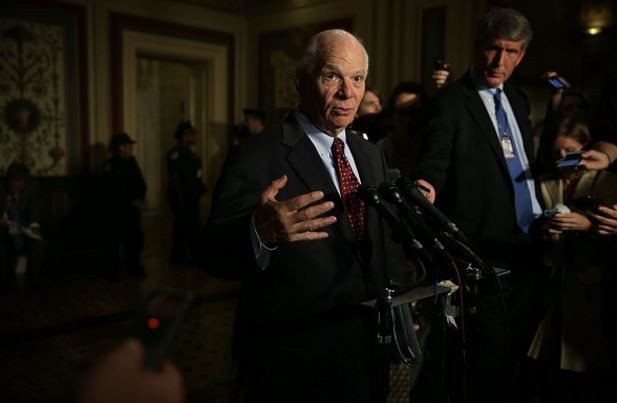 On Friday, United States senators presented a resolution denouncing the latest nuclear test conducted by North Korea and also introduced firmer sanctions on the communist country, according to a report from the Korea Times.
On Thursday, Senator Benjamin Cardin (D-MD), presented the resolution (S.Res.564) claiming that the North's ballistic and nuclear missile tests signify a major threat to the United States, its allies, and partners in Asia and beyond.
Senators Jack Reed (D-RI), Dianne Feinstein (D-CA), Richard Durbin (D-IL), and Charles Schumer (D-NY) co-sponsored the resolution.
The resolution states, "The Senate condemns the North Korean regime for continuing its dangerous provocations, focusing solely on the advancement of its nuclear and missile capabilities while violating the human rights of its people."
The resolution also encouraged North Korea to promptly and unconditionally yield its nuclear and missile activities. It also asked China to practice its leverage over North Korea by aggressive enforcement of the United Nations Security Council's (UNSC) sanctions.
It also reaffirmed the commitment of the United States to protect and defend its allies in the region, which includes the deployment of a Terminal High Altitude Area Defense (THAAD) system to South Korea and "extended deterrence" assured by the full spectrum of U.S. defense capabilities.
Included in the resolution is a call to the United Nations Security Council to implement "additional and meaningful new measures" that could counter the attacks and provocations from North Korea. These measures include the elimination of exceptions in the present sanctions, further restrictions on imports and exports of coal, iron and other precious metals, and the prohibition on fuel oil exports to North Korea.
The resolution further introduced other sanctions such as denying those involved in North Korea's weapons programs access to international banking, limitations on the supply of aviation fuel, a ban on bulk cash transfers to and from the North, and the forestallment of the use of North Korean labor in third-country projects and agreements.
© 2023 Korea Portal, All rights reserved. Do not reproduce without permission.