South Korea's International Martial Arts Competition Formally Inaugurated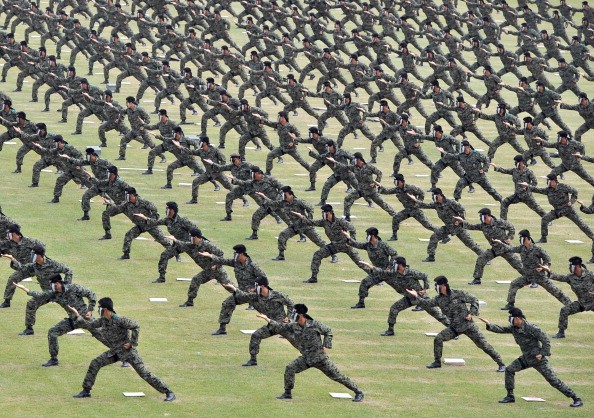 South Korea's international martial arts competition was formally inaugurated with a hope of transforming it into a global festival similar to the Olympic Games.
According to the organizers, an estimated number of 2,000 athletes and officials from 87 countries will participate in 17 events namely judo, kendo, kickboxing, and taekwondo. The athletes will compete for 173 gold medals.
South Korea martial arts are military practices that have recorded in the history of Korea. It was adapted for military and non-military personnel as a method of recreation and personal development. The history of Korean martial arts started at the prehistoric era. The South Korean people developed and nurtured martial arts and military strategies in order to defend themselves and their territories.
The inaugural World Martial Arts Masterships created a slogan for the event entitled "Martial Arts for One World, One World for Martial Arts" in the city of Cheongju.
The opening ceremony was held at Cheongju University Multipurpose Sports and Culture Complex. Around 4,000 people attended the inauguration together with the South Korean Prime Minister Hwang Kyo-ahn, US Ambassador to South Korea Mark Lippert, SportAccord Vice President Stephan Fox, and the International Olympic Committee (IOC) member Syed Ali.
The ceremony introduced the masterships as a festival for martial arts practioners all over the world. It also portrayed the North Chungcheong Province as a holy land for martial arts.
There are also martial arts performances and K-pop performances after the congratulatory message from the UN Secretary-General Ban Ki-moon was presented.
The event organizers hope to build the masterships into Martial Arts Olympics and bring the Olympic and Asian Game athletes to their future competitions.
The North Chungcheong Province Governonr and co-chief organizer Lee Si-jong said that unlike the Olympics, the mastership don't need a big budget. And he expects that the event will grow together with other sports and martial art organizations in the world through a strong partnership.
© 2022 Korea Portal, All rights reserved. Do not reproduce without permission.