Modernized 'Garak Market' Welcomes Shoppers in Seoul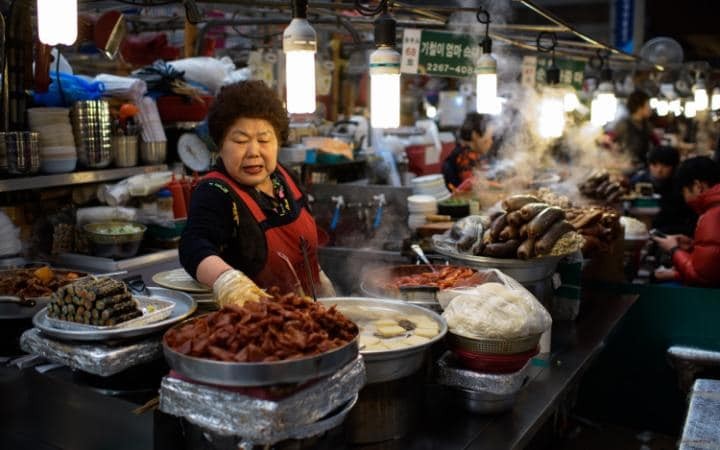 The new modernized face of Garak Market offers a lively and fun shopping experience and variety of food for dinner table that welcomes its shoppers and customers in Seoul.
Garak Market is established in 1985 and it controls one-third of the overall volume of South Korea's agro-fishery trade while half of the products goes to the Seoul metropolitan area.
The market is located in the southern district of Songpa-gu in Seoul. The agriculture and fisheries wholesale market trades, this includes all the food that we eat like fruits, meat, vegetables, and seafood are directly delivered from local fisheries and farms.
The traditional market gives hustle and bustle of trucks with noisy scenes in the early morning. However, a new complex food market called "Garak Mall" in July will lessen the hassle for the ordinary shoppers and customers.
Garak Mall is a three-story building and it is fully air-conditioned with parking lots on each floor. It can be easily reached from Garak Market Station and close to major bus stations.
"As Songpa district has transformed into an affluent residential area, the market has faced growing calls to keep in pace with the recent development to meet the upgraded living standards. The efficient logistics system, spacious parking lots and other amenities are no longer optional. They have become essential requirements to become a modern food market," said Sohn Bong-hee, a public relations manager at Seoul Agro-Fisheries & Food Corporation (SAFFC), which manages the market.
On the first floor of the mall, it includes seafood stores with an alley of shrimp, king crab, flatfish, and octopus placed in aquariums that attract customers and shoppers. It also has livestock section with over 100 butcher shops that sell all types of pork, beef, chicken and other poultry products.
"Come early in the morning, then you can see butchers cutting meat off the bones. You can select anything you want on the spot, which are undoubtedly fresh," the owner of Haenam Livestock said.
On the second floor, it contains all kinds of ingredients in a supermarket and shop and all kinds of kitchenware with an estimated of 150,000 items for retail and wholesale customers.
"As the shopping space has air conditioners and easy access to parking lots after the renovation, customers stay here longer. Everything has a price tag with a barcode, so they don't have to hassle," said Yoon Jong-jin, CEO of Hanju Kitchen.
On the third floor, it includes restaurants where shoppers can eat the food that they bought, and the restaurants will fix a table for them and offer side dishes with fees.
The opening of the Garak Mall is the first step in the 4-stage modernization project of the Korean government.
"Once you come here, you will be able to find things to eat, see and do in one place. Our ultimate goal is to make Garak the world's largest food market and the center of K-food," Shin said.
© 2019 Korea Portal, All rights reserved. Do not reproduce without permission.