Korean Movie 'Tunnel' Tops Box Office For 2nd Week With 5 Million Viewers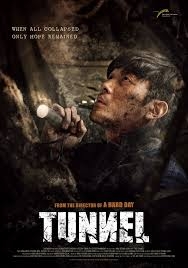 South Korean movie entitled "Tunnel" has claimed the top spot at the Korean Box Office Hit for its second week screening that gained more than 5 million viewers nationwide according to the data released on Monday.
According to the Korean Film Council (KOFIC), the official box office tally in Korea and promotes homegrown films, the movie "Tunnel" added 1.11 million to the domestic total of 5,084,911 over August 19-21.
The movie exceeded the 5 million mark on Sunday, which is the 12th day of screening, surpassed faster than "The Last Princess" that opened a week earlier. However, it has 1.7 million less than "Operation Chromite" in attendance. Among the so-called "big-four" Korean films this summer, "Tunnel" is expected to narrow the gap around next weekend. The two other big-four films are "The Last Princess" and "Train to Busan."
The movie "Tunnel" is starring by Korea's popular actors Ha Jung-woo, Bae Doona and Oh Dal-su. It is directed by Kim Seong-hun. The film shows the desperate struggle of a car salesman who accidentally gets trapped inside a collapsed tunnel on his way back home from work. His wife and the 911 captain make every effort to save him but are confronted with politicians and people who do not want a development plan to be delayed to rescue a single person who may have already died.
Coming in second place is the movie "The Last Princess" that gained 501,405 people during the weekend. It will surpass the 5 million mark soon with 4.38 million number of viewers.
The historical film is about the unfortunate life of Korea's last princess. It is directed by Hur Jin-ho and starring Son Ye-jin who follows the dramatic life of Deokhye, the last princess of the Joseon Dynasty (1392-1910), as she is forced to leave her motherland during Japan's 1910-45 occupation of the Korean Peninsula.
Coming in the third place is the movie "Star Trek Beyond" which is a franchise of Star Trek movies had 493,135 viewers on its opening.
Coming on fourth place is the movie "The Secret Life of Pets" with 223,429 viewers on its 3rd week. It is an animated film that top with 2 million viewers.
Lastly, the fifth and sixth place goes to "Operation Chromite" and "Train to Busan". These films have a huge budget and good reviews from its viewers.
© 2023 Korea Portal, All rights reserved. Do not reproduce without permission.