Japanese Fans Criticize G-Dragon for Liberation Day Post on Social Media
by
YuGee
/ Aug 17, 2016 05:53 AM EDT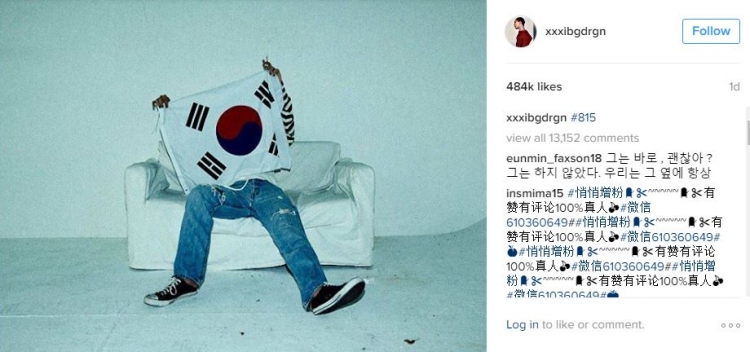 After the reports of criticisms from Korean netizens towards SNSD's Tiffany because of her controversial social media posts that coincide with South Korea's celebration of its liberation from the Japanese colonial rule, another K-Pop idol is under fire, this time from Japanese netizens.
On August 15, which is also the 71st anniversary of South Korea's Liberation Day, Big Bang's G-Dragon posted a photo which shows the singer holding up a Korean flag with the caption "#815." Although it might seem natural for a South Korean citizen to celebrate his country's Independence Day, some Japanese netizens expressed dissatisfaction with the post. As you know, Big Bang is also popular in Japan and has a lot of Japanese followers.
Allkpop reported that some of the Japanese netizens commented, "His professionalism is low," "If you are not going to be considerate towards Japanese fans, then you shouldn't promote in Japan," "As someone who's influential in both Korea and Japan, he shouldn't have done this," "I'm a fan, but this makes me feel further from him," and more.
However, there were also some comments that showed support and tried to encourage the singer not to worry about the negative feedback. Some fans stated, "Congratulations on your independence day. This kind of thing happens on the Internet often, so please don't worry about it," "I'm really sorry. The Japanese were really dumb back then," "Spread love and not hate. Don't curse and swear in GD's IG. Respect please," and others.
The photo is still on G-Dragon's Instagram.
Meanwhile, fans of the K-Pop group VIXX expressed their ire towards SBS News after the reporters of the said news program mentioned the group's rising sun flag controversy three years ago on its August 15 airing.
The controversy happened in 2013 during one of VIXX's 'VIXX TV' clips were uploaded on their official YouTube page. While shopping in Japan, members Ravi and N were seen picking up a few hats with images that look like the rising sun flag on them. Jellyfish Entertainment issued a statement of apology afterward, claiming that it was a mistake of not being able to edit out the scene.
Allkpop also posted some of the comments from the netizens that read, "This has nothing to do with VIXX as people and there's no reason for them to be criticized but the issue is getting bigger, which upsets me," "After reading this, I think VIXX really get criticized unfairly. People will probably just think the fans are shielding them," "All in all it's best to avoid any similar symbols," and more.
© 2023 Korea Portal, All rights reserved. Do not reproduce without permission.