SK Women's Handball Team Finishes Rio Olympics Without Regrets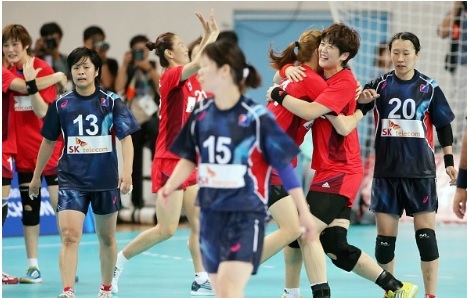 South Korean Women's Handball team staunch the flow of tears after their final match as South Korean national handball team athletes and they have no regrets in joining the Rio Olympics competition.
The goalkeepers of the team are Oh Yong-ran and Woo Sun-hee expressed their gratitude as well as their sadness because it will be their last time of being a member of South Korea's Women handball team.
Oh, who first joined the team in 1993, has previously participated in four Olympic Games as an athlete on the national squad. In 1996, she joined the Atlanta Olympic Games and was also on the team in 2008 at Beijing.
After that, Oh retired, but soon came back to guard Korea's goal for the Korean women's national handball team competition in Rio.
In an interview with Oh after South Korea's match with Argentina, her eyes were filled tears when she told them her feelings that concern the younger Korean athletes.
"Before the game, I told my team that this could be my final game, which made them cry even before the game began. I regret this, as it could have made them feel more burdened," Oh said tearfully.
In 2008, the story of the Korean women's handball team at the Athens 2004 Olympic Games was made into film entitled "Forever The Moment". Oh was the real hero in the movie.
During the Athens Olympic Games, the team battle against Denmark in the final round. Despite of the effort they exerted, the team ended up losing the game and regrettably won the silver medal.
Woo Sun-hee, who retired in the year 2014, came back to the team together with Oh. Wu became a national athlete and completed the tremendous training schedule. Her efforts were unique example for the younger athletes on the team.
"I had a responsibility to win a game in the Olympics before I retired. I cried even before the game started," Wu said after winning the final match against Argentina.
In Rio Olympics, the Korean team did not make it to the semi-finals. However, the tears of Oh Yong-ran and Woo Sun-hee are full of emotions. They have the passion and love for handball. Even they need to bid farewell in playing handball in the Olympics, the memories and friendship among the team will last forever. And they said that they have no regrets on what they did on the game because they know that they give their best to win for their country.
© 2023 Korea Portal, All rights reserved. Do not reproduce without permission.