Jessica Jones In 'Avengers: Infinity War? 'Cast Krysten Ritter Thinks She's Better Off In Netflix?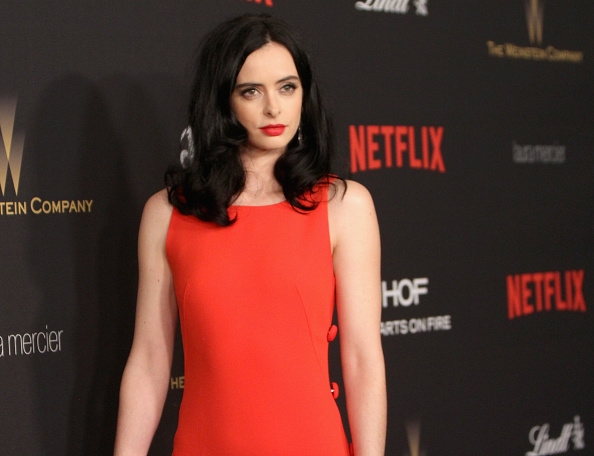 Netflix TV series "Jessica Jones," which is set to return for season 2, is in the same universe as the Marvel movies that were released based on the Easter Eggs throughout the show.
With that said, should she be included in the upcoming "Avengers: Infinity War"?
Lead cast Krysten Ritter likes the idea.
"That's an interesting question because I love Jessica and I love any opportunity to play her," Ritter told a fan when asked during her appearance at the Wizard World's Portland convention (via Comicbook.com).
"Obviously, it'd be really exciting to be a part of those giant, huge movies with those great characters who are already established, so it'd be awesome."
However, she sees "Jessica Jones" TV series as something different compared to Avengers when it comes to content and how her stories is told.
"I'm also really lucky because our Netflix playground is so unique and so grounded and gritty and more adult," Ritter added.
"I don't think it's quite R-rated but it's close. There's some sex scenes. So, a little bit of both! It'd be awesome if I got to pop up somewhere else. There's always the chance that could happen. I don't really know, they don't tell me anything, so I'm totally stoked about the playground on Netflix."
"Jessica Jones" received critical acclaim with critics praising it for its portrayal of sexuality, rape, assault and post-traumatic stress disorder (PTSD). It earned 93% approval ratings based on 51 reviews from review aggregator site Rotten Tomatoes.
Site's summary of the show is that it "builds a multifaceted drama around its engaging antihero, delivering what might be Marvel's strongest TV franchise to date."
"Jessica Jones" season 2 release date is yet to be revealed.
"Avengers: Infinity War" is a two-part film which will serve as a sequel to "The Avengers" (2012) and "Avengers: Age of Ultron" (2015).
The first is expected to be released in May 2018 and the second will be in May 2019.
© 2018 Korea Portal, All rights reserved. Do not reproduce without permission.