SHINee's Jonghyun Abruptly Pulls Out Of Their Kobe Concert Due To Stomach Infection; Minho Covers His Part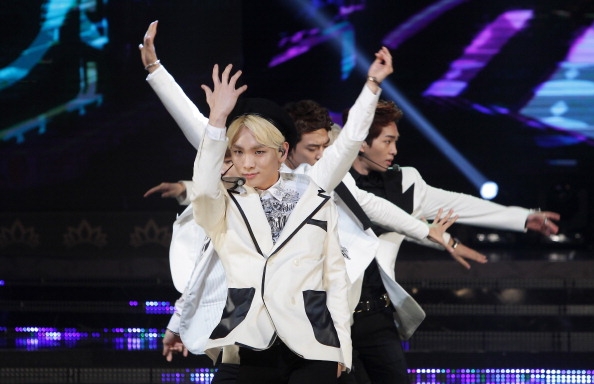 SHINee's lead vocal Kim Jonghyun had to pull out of their concert in Kobe, Japan shortly after he experienced a severe stomach pain that prompted medical attention. He was diagnosed with bacterial gastroenteritis, according to sources.
The said infection which is commonly termed as "food poisoning" results from eating foods that have been contaminated with bacteria, causing inflammation to the stomach and intestines, according to Health Line.
The physician was said to have prohibited Jonghyun from joining two consecutive days of the concert on Feb. 12 and 13 as he needed to recuperate. As this was an unforeseen case, the fans did not know that he would miss out on the show.
The remaining members Onew, Key, Minho, and Taemin showed up ahead of the opening stage to personally inform the fans about Jonghyun's condition. Despite being disappointed for his absence, SHINee World, the official fanbase of SHINee, expressed their worries and trended #GetWellSoonJonghyun worldwide on Twitter to show support for his recovery.
On the first day, SHINee members did not fill Jonghyun's part and let the background vocals represent his voice, according to real-time translations by Keihissi during the concert. They also left the space to where he was supposed to stand and promised to perform more actively as a token of apology for his absence.
On the second day, however, SHINee members filled some of his parts and what surprised fans the most was that Minho covered Jonghyun's part in one of their ballad songs "Moondrop."
This is a re-defining moment for Minho who was previously known as the weak link in SHINee for his vocal skills were not on par with the other members. Minho's vocals have shown improvement through the years but the Korean media mostly kept a blind eye on it.
On the third day which was the last stop in Kobe for their Japanese Arena Tour, Jonghyun surprised the fans and participated in the concert.
"It was completed with five members at last. Though it was not a perfect stage, to be able to do the performance with all five members made me really happy," revealed Key right after the concert through their official blog SHINee World J.
There will be an estimated 350,000 audience for SHINee's fourth Japanese Arena Tour this year, posted SMTOWN GLOBAL. The total visitors for all of the quintet's Japanese visitors would then accumulate to 112 million.
The said tour entitled "SHINee World 2016: DxDxD" commenced last Jan. 30 at Marine Messe in Fukuoka and will tentatively end on April 24 consisting of at least 20 concert stages, wrote Venture Capital Post News.
© 2023 Korea Portal, All rights reserved. Do not reproduce without permission.