Growing Number Of Sperm Whale Strandings In Europe Could Indicate A Recovery In The Species' Population, Experts Say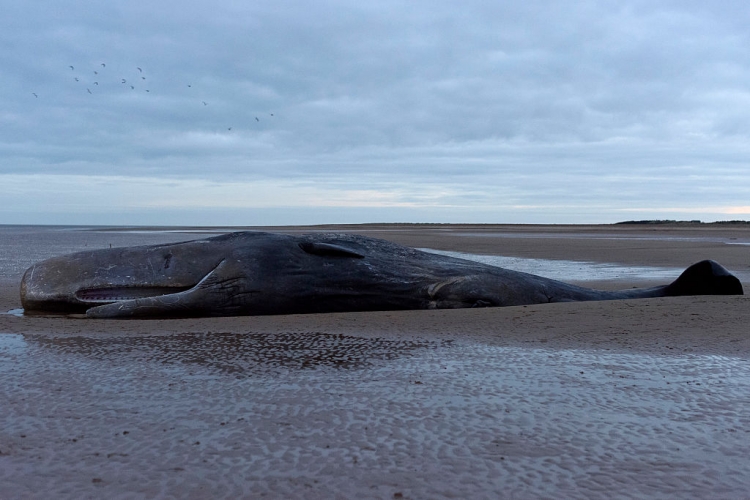 Over the past month, around 30 sperm whales have been found beached in the coastline of Europe's North Sea. The sixth sperm whale that died on the British coast was found in Hunstanston, Norfolk on Thursday. The 30-ton whale was alive when it was discovered at around 7:30 in the morning. It died on the same day at 8 p.m. despite attempts to revive it.
According to the Daily Mail, the male sperm whale was stranded 1.5 miles from the sea after it was caught in a low tide. The rescue team hoped the whale would swim back to the sea once the high tide hit at 2:50 p.m., but the whale was already too weak to mobilize itself.
The whale was also reportedly suffering from internal injuries.
Marine pathologists have taken samples of the carcass to determine the whale's possible cause of death. Once studies on the whale are finished, the carcass will be transferred to a landfill site.
Al Jazeera reported Friday that Britain, Netherlands, France and Germany have recorded several incidents of whale carcasses found washed up ashore starting mid-January. Experts believe the whales are members of the same pod of young males migrating to the south. Scientists, however, are still uncertain as to why some male whales got lost in the North Sea.
"What we've got here is a bunch of teenagers out having a good time but taking a wrong turning into the North Sea," said Stephen March, operations manager of the British Divers Marine Life Rescue. "They should have gone a bit further west and into the open Atlantic."
There are several theories to explain why mass strandings exist.
When whaling was a booming industry starting in the 19th century, there were fewer recordings of whales found beached.
The latest occurrence, however, could indicate that the sperm whale population has now recovered following the implementation of regulations and laws that ban whaling. Since whales are social animals that travel in groups, larger males may have pushed out younger ones from the group. This could have forced them to swim towards the North Sea where they unknowingly meet shallow waters and get trapped.
© 2023 Korea Portal, All rights reserved. Do not reproduce without permission.