U.S. Sends Nuclear-Powered Supercarrier USS John C. Stennis To Western Pacific Seas Amid Tension With North Korea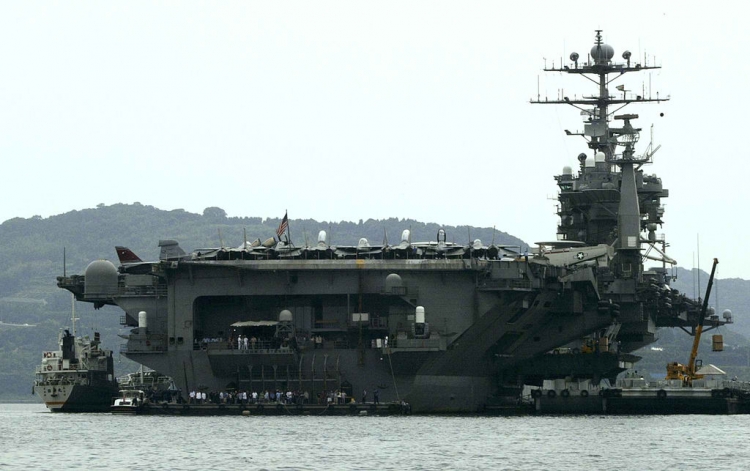 On Jan. 15, the United States Naval Institute's website said that USS John C. Stennis (CVN-74), a nuclear-powered aircraft carrier, has departed the Kitsap-Bremerton Naval Base in Washington for a months-long deployment to the Western Pacific.
Earlier this month, United States Defense Secretary Ashton Carter and Korean Minister of National Defense Han Min Koo have both agreed to the deployment of a U.S. military strategic asset to the Korean Peninsula, Korea Joong Ang Daily reported Tuesday.
Subsequently, Korea Times also reported that the deployment of the high-powered carrier is a manifestation of the continuous show of force by the United States government against North Korea. This also inidicated that the world's most powerful country has been showing support for its ally, South Korea, in relation to the North's most recent nuclear hydrogen testing.
"The carrier is one of the strategic assets of the U.S. forces, and talks between South Korea and the U.S. are underway over whether to deploy the aircraft carrier to the Korean Peninsula," said Kim Min Seok, spokesperson for South Korea's Ministry of National Defense.
Captain Mike Wettlaufer, the commanding officer of USS Stennis, confirmed that their deployment to the Western Pacific is the "culmination" of their training. The carrier has 3,100 combat-ready sailors who spent most of their time last year in preparing for their 2016 deployment. Stennis has been reportedly engaged in several exercises including Joint Task Force Exercises and Composite Training Unit Exercise.
"This crew has attacked every challenge thrown their way, and as we leave to answer our nation's call, I couldn't be any prouder of them," Captain Wettlaufer said. "We are ready."
In a press release, the United States Naval Institute mentioned that "guided-missile cruiser USS Mobile Bay (CG 53) and guided-missile destroyers USS Stockdale (DDG 106), USS William P. Lawrence (DDG 110), and USS Chung Hoon (DDG 93) will join Stennis" following its deployment.
© 2022 Korea Portal, All rights reserved. Do not reproduce without permission.