Five-Year-Old Girl Gets Through Security To Deliver A Letter Of Plea For Immigration Reform To Pope Francis During Papal Procession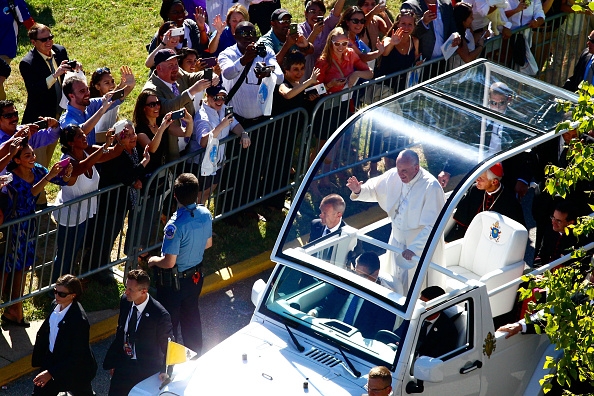 Thousands of people waited patiently to have a glimpse of Pope Francis on Wednesday. Among the crowd is a five-year-old girl who hopes to see the pope pass by on the National Mall. As Pope Francis approaches the mall, Sophie Cruz did not hesitate to move toward the popemobile amid tight security.
The young girl caught the attention of the pope as the latter gave a signal to Sophie who was initially stopped by the security personnel as she slipped through the barricade.
A guard carries the five-year-old girl to Pope Francis who gives her a hug and a kiss. But aside from that, Sophie brings with her a letter which aims to deliver an important message to the pope.
The letter, which was handed by a security guard to Pope Francis, carries a call to US lawmakers to push for immigration reform.
Speaking with The Guardian on the same day, Sophie recited the letter she gave to Pope Francis: "I want to tell you that my heart is sad. I would like to ask you to speak with the president and the Congress in legalizing my parents because every day I am scared that one day they will take them away from me."
Sophie, along with her father Raul, travelled to Washington in hopes to deliver a plea to the pope. Her parents are from Oaxaca, Mexico who immigrated illegally to California, where Sophie was born and raised.
"I believe I have the right to live with my parents, I have the right to be happy," she says, standing beside her father. "All immigrants just like my dad help feed this country. They deserve to live with dignity. They deserve to live with respect. They deserve an immigration reform."
She goes on, "The pope's an immigrant, so he understands our plight. He's in the particular position to touch people's hearts."
Meanwhile, Joseph Reblando, who was standing next to Sophie's family during the papal procession says Raul was in tears after her Sophie was able to deliver the message to the pope.
In addition, BBC News reported on Thursday that some US presidential hopefuls urge mass deportations that is why immigration "has become a major issue in the US presidential race."
Around 11 million people live in the US illegally with some of them has native-born children, just like in the case of Sophie's family.
© 2023 Korea Portal, All rights reserved. Do not reproduce without permission.