North Korea's Hydrogen Bomb Claim Met With Strong Disapproval From International Community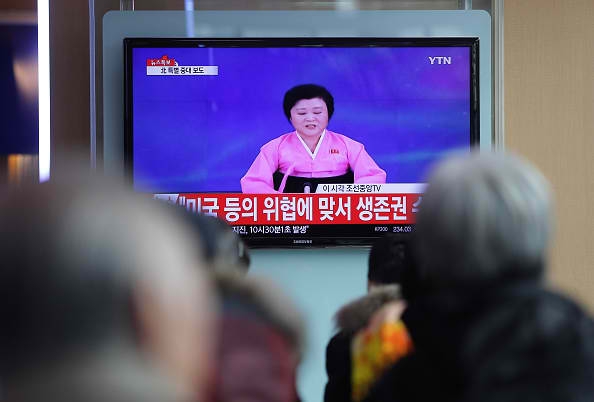 North Korea has claimed to have achieved an advanced level of "nuclear might" after the country's successful underground detonation of a miniaturized hydrogen nuclear bomb on Wednesday.
This is the fourth time North Korea conducted a nuclear test since 2006.
A North Korean state-run television broadcast displayed what seemed to be a handwritten note from Kim Jong Un, in which the leader said, "Let the world look up to the strong, self-reliant nuclear-armed state," the Bangor Daily News noted Wednesday.
However, North Korea's claim of having successfully launched a hydrogen bomb test is being slammed with doubts from experts and analyst because the power of the explosion registered after the detonation was weaker than that recorded when the country conducted a uranium-based nuclear test in 2013.
"The initial analysis is not consistent with the claim the regime has made of a successful hydrogen bomb test," White House Spokesperson John Earnest said.
Regardless if it was a hydrogen bomb or not, the government of South Korea did not rule out the possibility that the North may have been developing an improved fission weapon that is more powerful compared to the traditional nuclear weapon. Yonhap News reported Thursday that the South Korean intelligence unit found an important sign of the North's progress and mastery with the bomb miniaturization technology.
"Even if it was a test of a boosted fission bomb, it must have been unsuccessful," an offcial from the Ministry of Defense said.
Matthew Cottee, an expert from the International Institute for Strategic Studies, said North Korea is making progress with its nuclear arsenal and that its nuclear and missile program are advancing "without any significant control by the international community."
North Korea's recent move has been referred to as "deeply troubling" by the United Nations Secretary-General, Ban Ki Moon. Ban said the country's nuclear test prfoundly destabilizes regional security.
Similarly, Japan's Prime Minister Shinzo Abe strongly denounced North Korea's nuclear challenge saying that is a "serious threat" to the security of the nations.
President Park Geun Hye also announced that the South will work more closely with the international community so that the North will pay the "commensurate price" for its recent nuclear test.
© 2023 Korea Portal, All rights reserved. Do not reproduce without permission.