Iranian Supreme Leader Ayatollah Ali Khamenei Reportedly Gives Warning to U.S. In Video Propaganda Released [VIDEO]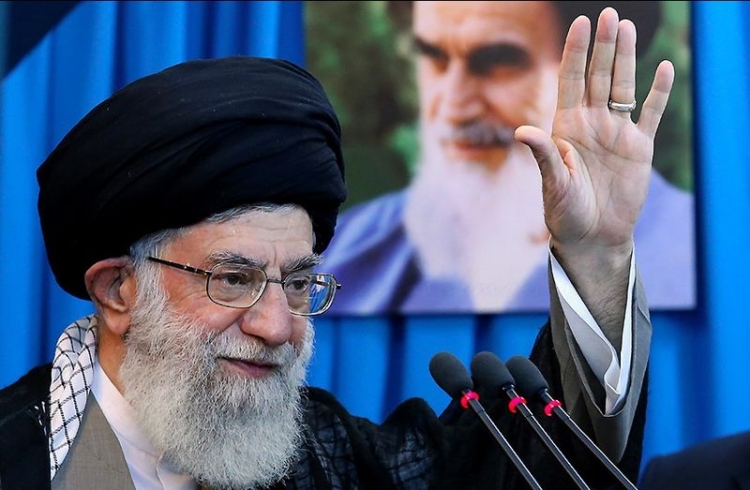 Iran's Supreme Leader Ayatollah Ali Khamenei issues a warning to the United States through a video propaganda uploaded on Sunday. The 2-minute long video shows images of war and Iranian missiles.
The video entitled, "If any war happens," was uploaded on Youtube and has gained more than 400,000 views as of Wednesday.
The video propaganda starts with a shadowy image of the U.S. President Barrack Obama with a voice recording of him saying, "We could knock out [Iran's] military in speed and dispatch if we chose to," which is a statement he made in an exclusive interview with New York Times' Thomas L. Friedman on July14, 2015.
After which, a recorded voice of Iran's Supreme Leader plays in the background. An English translation of his remark reads, "A U.S official has said that he can destroy Iran's army. I do not want to say anything more in this regard.".
"Our predecessors used to call such statements, 'boasting among strangers,'" the subtitle continues. "If those who will hear this statement want to know the truth and if they are willing to use their experiences correctly..." These excerpts are taken from Khamenei's sermon at the Eid ul-Fitr Prayers in July 2015.
He continues, "We neither welcome nor begin any war," as exploding Iranian missiles were shown in the video.
"They must know that should any war break out, one who will emerge humiliated out of it will be invading and criminal America," the voice recording continues.
Meanwhile, Daily Mail reports on September 9 that the Tehran will not engage in talks with the US, as per Ayatollah Ali Khamenei's advice. Furthermore, the Iranian Supreme Leader also calls the US "Great Satan."
"Some Zionists have said that regarding the result of the nuclear deal they [Israelis] have been relieved of concerns about Iran for 25 years," he says. "But we tell them that you will not see the coming 25 years and God willing there will not be something named the Zionist regime in the region."
© 2023 Korea Portal, All rights reserved. Do not reproduce without permission.