Adam Levine Woos Wife After Amy Vachal Cheating Rumors? Behati Prinsloo Considers Divorce?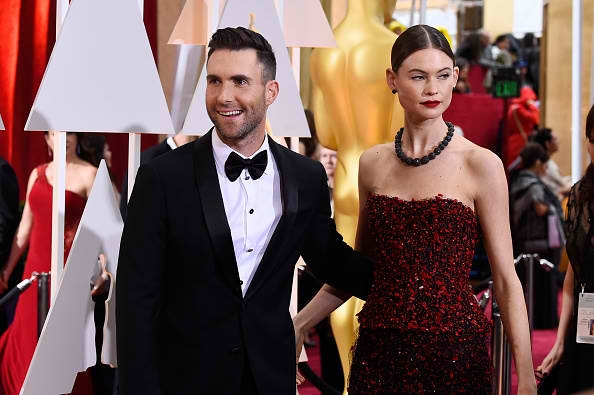 There are reports that Adam Levine may be in trouble with his wife Behati Prinsloo over cheating rumors, and that divorce may be on the table for the celebrity couple.
According to claims, Behati Prinsloo's husband may purportedly be attracted to "The Voice" contestant Amy Vachal. After saving Vachal from eliminations in November, Adam Levine reportedly tried to keep "their interactions cool" towards the end of last year.
"No one can figure out if they've had an argument or if he's trying to skirt some sexual tension," a source reportedly told OK! Magazine, as quoted by Gossip Cop.
The source went on to say that "The Voice" mentor purportedly "has been avoiding physical contact with Amy."
There are speculations that though Levine might be trying to avoid Amy Vachal to stay out of trouble, Behati Prinsloo might be able to sense her husband's interest.
Is the runway model so jealous that she's considering divorce?
It may not be clear right now, but Gossip Cop has already debunked that there was ever a "sexual tension" between Adam Levine and Amy Vachal.
Last year, it has also been reported that divorce may be looming for Adam Levine and his wife as Behati Prinsloo purportedly couldn't take the Maroon 5 frontman's rumored flirting with other women.
"Adam's acting like the same playboy he was before they wed, and that's a problem for his wife," a source told In Touch magazine, as previously quoted by Hollywood Life in August.
"She thinks it's disrespectful for him to flirt with other girls when he's married to her ... He goes out all the time and hangs out with other models," the insider added.
"Recently, Adam had a guys' night out and Behati found out he was chatting up girls. She was livid and they had a huge fight. It's a sore spot for her."
Adam Levine and his wife have been keeping mum about the divorce rumors ever since it first sparked last year.
© 2023 Korea Portal, All rights reserved. Do not reproduce without permission.