'Lost' North Korean Submarines Reappear After Tensions Ease With South Korea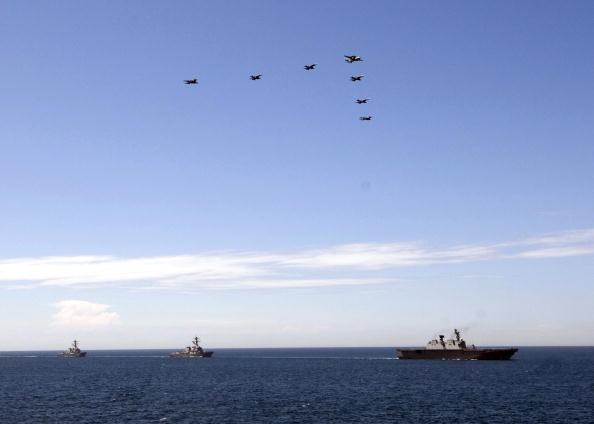 50 North Korean submarines went missing in late August after Pyongyang threatened to fire across the border, according to the U.K. publication The Independent.
The submarines, which comprised of 70 percent of the country's submarine fleet, have been detected in North Korea's inland sea following a truce between North and South Korea on Tuesday morning, according to Vice News.
"Some 50 submarines that had been away from their bases since August 21 have shown signs of returning back to their bases," stated a South Korean defense ministry official.
The submarines may have returned following a typhoon that is nearing the Korean peninsula, or because the vessels can only stay underwater for three days at a time, according to officials cited by the Korea Herald. U.S. and South Korean reconnaissance planes and naval vessels had reportedly been searching off the east and west coasts of the peninsula for the submarines since their disappearance.
The missing submarines had heightened the already present tensions between North and South Korea as there had been speculation that it was a "deliberate show of strength" by North Korea in order to place pressure on the South during their recent meeting of truce, according to defense analyst Moon Geun-Sik's interview with South Korean newspaper Chosen Ilbo.
Conflict between the two countries had gotten worse after two South Korean soldiers were severely injured following a land mine explosion that was blamed on the North in early August, according to VOA News.
Before the two countries met this week, South Korea had reportedly turned to blasting propaganda from loudspeakers over the border. The speakers were reportedly taken away following the negotiations, which lasted several days.
Although tensions have eased, there is speculation that the relationship between North and South Korea have yet to change, according to Robert Kelly, a professor of international relations at South Korea's Pusan National University.
"This may signal that North Korea is going to sort of keep its powder dry for six months or a year. But I imagine we'll be having this same conversation in a couple of years," Kelly said.
"There's just no signal at all coming from the North Koreans that they're really going to change."
© 2023 Korea Portal, All rights reserved. Do not reproduce without permission.