Korean All-Girl Group GFriend Continues Performing Despite Multiple Falls Due To A Slippery Stage During Concert In Seoul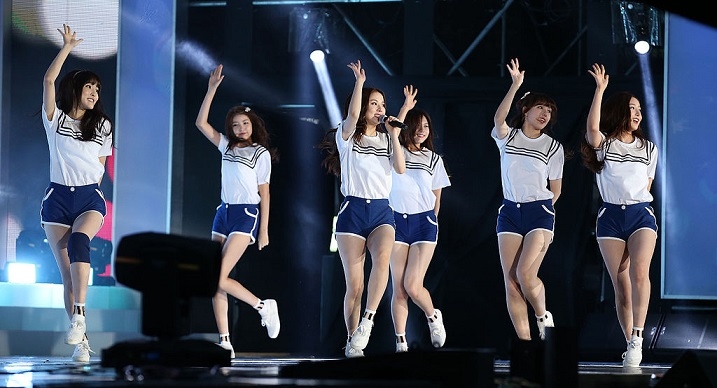 The show must go on for Korean all-girl group GFriend despite the rain during their performance in Gangwon Province last September 5. Talk about "raining on someone's parade." But for Sowon, Yerin, Eunha, Yuju, SinB and Umji, it was more like "raining on their show". Still, it didn't stop them from entertaining the crowd even if Yuju fell more than five times, while SinB fell once.
A video of the group's performance was uploaded the same day, gaining more than 4 million views after five days. It showed GFriend performing their new single, 'Me Gustas Tu,' and braving the slippery stage.
Just as after the group started their act, Yuju (wearing a white knee protector) fell hard on stage. The artist was able recover fast and stood up to continue dancing. However, she slipped over and over and over again.
Another member, SinB, also fell while on stage. Nearly a dozen falls and slips were recorded during the 4-minute performance, as reported by Billboard on Monday.
Despite all the falling and slipping, the girls were able to maintain their poise and professionalism. GFriend finished their performance with a big smile. And the audience appreciated their 'cool' attitude with a big applause.
They also earned praises from the netizens who saw the viral video. Some of them expressed admiration to the group, while others were concerned if the members - particularly Yuju - suffered from any injuries. But she later assured on Facebook that she is fine and there is nothing to worry about.
Soompi reported earlier this week that right after the performance, the crowd shouted, "It's okay," to show their support.
GFriend released their first EP in January entitled, 'Season of Glass,' with the carrier single, 'Glass Bead.' Meanwhile, 'Me Gustas Tu,' is the lead single from their second EP, 'Flower Bud.'
Here's the video of GFriend's performance in Gangwon Province last September 5.
© 2023 Korea Portal, All rights reserved. Do not reproduce without permission.