Some South Korean Weddings Include Hiring 'Friends' Through An Agency to Reportedly Make Their Guest List Seem Bigger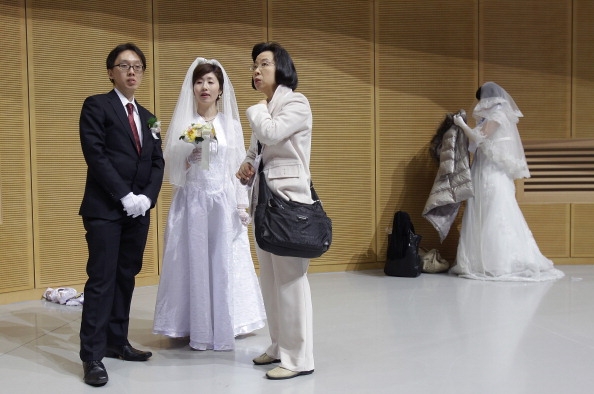 When some people are getting married, they envision themselves looking out into a sea of guests, most of whom they would consider loved ones.
In South Korea, some of those guests might be paid to be there, as an agency that casts people to attend weddings all over the country exists, according to NPR.
"When it's the peak wedding season in Korea, sometimes I do two or three acts a day, every weekend," explained Kim Seyeon, who reportedly makes about $20 per wedding she attends as a fake friend.
"It's fun. A lot of the times [couples] need these guests because they want to save face. They're conscious of what others think, and they need more friends. So the brides are very thankful for my presence."
$20 per wedding may not seem like much, but it's a pretty sweet deal considering you're also getting paid to eat the meals and partake in the alcohol-related festivities that are available to the real guests, according to Weird Asia News.
This specific business of paying people to attend events isn't a small one in South Korea. There are reportedly companies with profiles of over 20,000 actors, including men and women from 20- to 70-years-old.
This practice isn't particularly a new one either, according to Lee Hyun-su, who runs a South Korean casting agency called Role Rental 1-1-9.
"Wedding guest rentals started in the late 1990s, and in the early 2000s, broader role-playing rentals began," stated Lee.
The casting goes beyond hiring friends for weddings.
"This year we've seen increases in the other types of rental requests [like] renting family members, boyfriends, girlfriends, lovers or office employees. There have also been times when people hire fake spouses to get a loan from the bank," explained Lee.
This type of "performance aspect" in various important events in life isn't the most ideal.
"As I get older, life is too short for you to make your neighbors happy. You just have to be happy yourself," explained performance artist Maria Yoon.
© 2023 Korea Portal, All rights reserved. Do not reproduce without permission.