North And South Korea Agree To A 6-Day Reunion For 100 People From Each Nation In October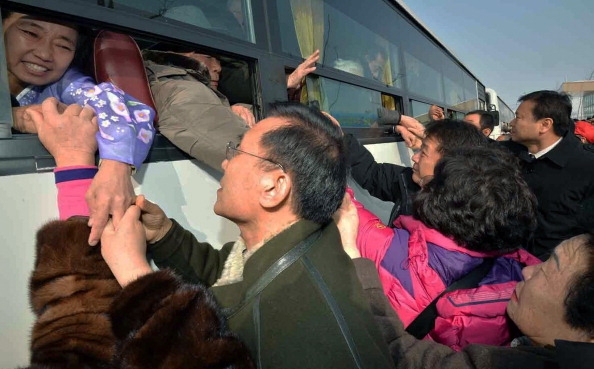 North and South Korea haven't had a reunion for the families separated by the Korean War since February 2014, according to USA Today.
After a meeting that was held at the border truce village of Panmunjom, both countries agreed to allow the reunion of 100 people from each country for six days from October 20 to 26, according to CNN.
This will reportedly be only the second reunion for families in the past five years. Many of the families have very little to no information about their loved ones on the other side because both governments reportedly don't allow contact among family members.
Dang Chun, who was one of the 100 South Koreans who made the trip to North Korea's Mount Kumgang resort last February, reportedly had the opportunity to meet his younger sister and brother, who he didn't even know was alive until he received a letter through the Red Cross with photos of his brother and family.
"It was shocking," Jang said.
"I didn't even know they were alive, although I had hoped they were. After reading the letter, I started crying, I was filled with both joy and sorrow."
Thousands of families have reportedly been separated with very little contact with one another since 1953.
Family members in South Korea will reportedly have to enter a lottery for a chance to meet their families. Each side will exchange the names of families who have been selected on September 15.
South Korea will reportedly offer a list of 250 so that the North can check if the people on it are still alive while the North will provide a list of 200 so the South can do the same. A final list will reportedly be decided on October 8.
© 2023 Korea Portal, All rights reserved. Do not reproduce without permission.