South Korean Film 'The Himalayas' Breaks Christmas Day Box Office, Beats 'Star Wars: The Force Awakens' in Box Office Round-Up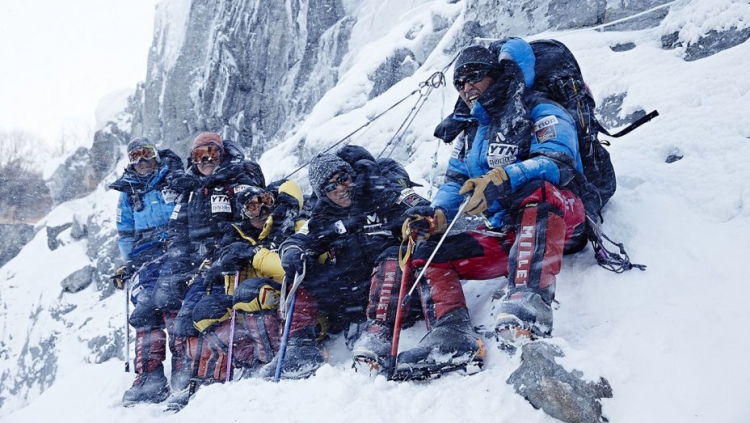 South Korean film "The Himalayas" set a new Christmas Day record with over 700,000 viewers, data revealed Monday.
Yonhap News reported Monday "The Himalayas" dethroned the 2013 hit movie "The Attorney" in terms of Christmas Day box office sales. Previous title-holder "The Attorney" raked 640,624 viewers during its release. Recently, "The Himalayas" staked its claim to the title with 746,413 viewers, the Korean Film Council said in a statement.
"The Himalayas" also surpassed the 4-million viewer mark in terms of cumulative total sales on the same day.
The Lee Seok Hoon-directed movie continues its reign despite the appearance of the highly-anticipated Hollywood powerhouse "Star Wars: The Force Awakens". The seventh "Star Wars" film drew 447 viewers on Christmas Day, capping the week with a total of two million viewers since its release in South Korea on Dec. 17
"The Himalayas" is based on the true story of legendary Korean mountaineer Um Hong Gil, played by Hwang Jung Min ("Veteran" and "Ode To My Father"). Um leads a team of mountaineers in what is dubbed as the "Human Expedition" as the group of hikers takes on the precarious journey to retrieve the body of one of their peers who died during one of their ascents.
Starring alongside Hwang Jung Min is actor Jung Woo who plays Park Moo Taek, a young mountaineer and member of the Daemyung University alpinists who perishes in the route's oxygen-deprived "death zone".
In third place was the big-budget period film "The Tiger", directed by Park Hoon Jung. The movie is set during the Japanese colonial era, and centers on a group of Japanese military and local hunters as they hunt South Korea's last remaining tiger from the Joseon Dynasty.
Korea JoongAng Daily noted Tuesday the movie stars Choi Min Sik as Man Deok Who, a person who respects the course of nature and adapts a coexistence with the animals.
"The Tiger" has exceeded the one-million mark as of Christmas Day.
© 2022 Korea Portal, All rights reserved. Do not reproduce without permission.